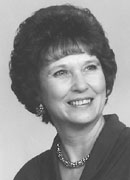 Charlotte Lee Bridges

ODESSA — Charlotte was born Sept. 14, 1946, in San Angelo, Texas, to Charles and Wanda Rudd. She died Friday, Sept. 24, 2004, at the Hospice House in Odessa, Texas.
She was raised in Odessa, and started her nursing career as an O.R. Technician at Medical Center Hospital. She was a member of Terrace Hills Baptist Church.
On Nov. 26, 1979, she married Larry Bridges. They moved to McKinney, Texas, where she continued her nursing career as an O.R. Technician until she received her RN in 1986 from Grayson County Community College in Sherman, Texas. She worked in McKinney until they moved back to Odessa in 1992, where she again worked for Medical Center Hospital.
Eventually, Charlotte began working for Hospice of the Southwest as a field RN, and she finished her career with Home Hospice. During that career she earned her certification as a Hospice nurse. She is remembered by her fellow employees and the families of her patients as a no-nonsense nurse who went out of her way to provide comfort, care and love.
In 2002, Charlotte was diagnosed with a brain stem tumor and after surgery and therapy, she was unable to recover. Along with other family members and friends, her husband cared for her diligently until her death. Their love for each other grew stronger during the last 2 1/2 years.
She is preceded in death by her mother, Wanda Rudd.
She is survived by her loving husband, Larry Bridges of Odessa; sons, Larry Roberts Jr. and wife Paula of Odessa; Chuck Roberts and wife Rhonda of Odessa; Larry Allen Bridges and wife Carolyn of Anna, Texas; and Kevin Pike and wife Kathy of Ellworth, S.C.; daughters, Sherri Keel of Princeton, Texas, Kathy Richardson and husband Clarence of Van Alstyne, Texas, and Gina Bielski and husband Andy of Bella Fontaine, Ohio; father, Charles Rudd Sr. of San Antonio, Texas; brothers, Frank Rudd of San Angelo, Texas, and Charles Rudd Jr. of College Station, Texas; sisters, Debbie Mann of San Angelo, Texas, and Sandra Jones of Lorraine, Texas; 15 grandchildren; and her beloved pet, Angel.
A very special thank you goes to Pastor Mike Martin and Dr. Jimmy Braswell and to the Home Hospice Family and all their employees.
In lieu of flowers, donations should be given to the Hospice House of Odessa, or Home Hospice of Odessa.
Services were at 10 a.m. Monday, Sept. 27, 2004, at Hubbard-Kelly Funeral Home Chapel with Dr. Jimmy Braswell and Pastor Mike Martin officiating. Burial followed at Sunset Memorial Gardens.
Pall bearers will be Kenneth Bridges, John Penney, Charlie Penney, Kyle Penney, Skipper Hunt and Grayson Hankins. Honorary pall bearers are Jeremy Roberts, Logan Roberts, Colby Roberts, Joseph Keel, Gene Michael Keel and Kevin Pike.
Services entrusted to Hubbard-Kelly Funeral Home.