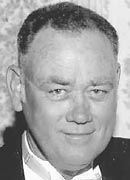 James 'Bert' Bollier

ODESSA James "Bert" Bollier, 66, of Odessa, passed away Oct. 25, 2004, at Medical Center Hospital. He was born on Feb. 18, 1938, in Laredo, TX, to Levi and Esther Vada Bollier.
He retied as a Lineman from TXU after 34 years of faithful service. He enjoyed fishing and camping. He was a kind, loving and generous person, he also enjoyed playing bingo with his friends from Deering Nursing home. Poppy as he was known by his grandchildren which were the light of his life, and he enjoyed tell them funny stores.
He was preceded in death by his first wife, Martha Bollier; his parents and older sister. He is survived by his wife, Marge Bollier of Odessa; daughter, Sherri Davis of Midland; stepdaughter, Loye Marrs of Odessa; stepsons, Melvin L. Allison of Odessa and Randy Allison of Crowley, TX; two brothers; and grandchildren, Jordan, Amanda Davis, Jeff, Landen, Darren Marrs and Brandon Allison.
Family will receive friends from 6 p.m. to 7:30 p.m. Wednesday Oct. 27, 2004, at Sunset Memorial Funeral Home. Services will be Thursday, Oct. 28, 2004, at 2 p.m. at Sunset Memorial Funeral Home Chapel with Rev. Owen Sharp and Craig DeArmond officiating. Burial will be at Sunset Memorial Gardens.
The family wishes to express a special thanks to Dr. Stanford, the loving and caring staff at Deering Nursing home and Rehab, and a special thanks to Webbie Walker.
Services are entrusted to Sunset Memorial Funeral Home.