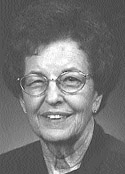 Mary Love Walker Allbright

ODESSA ó Mary Love Walker Allbright slipped into her Heavenly Fatherís hands Tuesday morning, August 17, 2004, freeing her from her earthly bondage of sickness.
Iím Free
Donít grieve for me, for now Iím free; Iím following the path God laid for me. I took his hand when I heard him call, I turned my back and left it all. I could not stay another day to laugh, to love, to work or play. Tasks left undone must stay that way; I found that peace at the close of the day. If my parting has left a void, Then fill it with remembered joy. A friendship shared, a laugh, a kiss; Ah yes, these things I too will miss. Be not burdened with times of sorrow; I wish you the sunshine of tomorrow. My lifeís been full, I savored much, Good friends, good times, a loved oneís touch. Perhaps my time seemed all too brief; Donít lengthen it now with undue grief. Lift up your heart and share with me; God wanted me now......HE SET ME FREE.
Mary Love was born January 28, 1925, in Loraine, Texas, to James Wiley and Syble Walker and was the oldest of two daughters. She grew up in Loraine and attended schools there graduating from Loraine High School. After her high school graduation she attended Texas Tech University in Lubbock and graduated with a Bachelor of Science degree in Home Economics.
On June 12, 1946, Mary Love married the love of her life, Jack Goodwin Allbright. They were married for 57 years until Jackís death on July 31, 2003. Mary Love and Jack were blessed with a daughter and son, son-in-law, daughter-in-law, five grandchildren and three great-grandchildren.
ďGrandma MaryĒ was a special lady! She was a friend to everyone she came into contact with. In all of her travels she never met a stranger no matter where she went. She never hesitated to help anyone and was willing to give whatever was needed. She stressed to all she knew how important first and foremost her faith in her Lord and Savior was.
Mary Love taught school in Loraine, Texas, for half a year and moved to Odessa to begin teaching. She taught for 35 1/2 years and retired from Austin Elementary. She was a dedicated educator and stressed how important learning was for all ages.
Mary Love was a member of First United Methodist Church, Tau Beta Sigma, a lifetime member of Texas State Teachers Association, charter member of Beta Epsilon Conclave of Kappa Kappa Iota, Retired Teachers Association, past member of The Modern Motherís Club and Old Timerís of Ector County.
She was preceded in death by her husband, Jack, and parents, J.Wiley and Syble Walker.
She is survived by her daughter, Jeanie Finn and husband, Paul Dee; son, Gordon Allbright and wife, Mary, all of Odessa; grandchildren, Jerrod Finn and wife, Sabrina, of San Angelo, Brad Allbright of Odessa, Elizabeth Dominguez and husband, Jason, of San Marcus, Mandy Allbright of Houston and Melissa Finn of Lubbock; great-grandchildren, Ryan, Jonathan and Victoria Finn, all of San Angelo; sister, Jean Kegans and husband, Troy, of Arlington; brother-in-law, Joe Allbright and wife, Francis, of Andrews; sisters-in-law, Polly Allbright of Odessa and Ruth Allbright of Alpine; and twelve nieces and nephews. Special cousins, L.B. and Oneta Bitner of Odessa; and special niece, Judy Allbright of Aztec, N.M. Special family who adopted her as ďGrandma Mary,Ē Rick and Linda Aneregg and Tyler of Odessa, Emmy Aneregg of Lewisville, and June and Glenn Finn of Odessa.
Honorary pallbearers will be grandsons, Jerrod Finn and Brad Allbright; nephews, Joe M. Allbright and James Allbright; friends, Kenneth Huse, and Leon Rybolt.
The family invites you to share in a celebration of Mary Loveís life at a graveside service at 9 a.m. Saturday, August 21, 2004, at Sunset Memorial Gardens followed by a Memorial Service at 10 a.m. at First United Methodist Church. A time of visitation will follow with the family in the Church Parlor.
The family suggests memorials be given to the First United Methodist Church, Parks Methodist Retirement Village, Home Hospice, Alzheimerís Association or your favorite charity.
Special thanks to Dr. J.B. Naidu, Dr. Madhu and staff, Parks Methodist Retirement Village, and Home Hospice.
Services entrusted to Hubbard-Kelly Funeral Home.