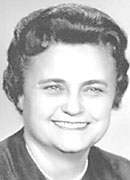 Elsie Martin Alcorn
ODESSA Elsie Martin Alcorn, 93, of Odessa, passed away on Tuesday, December 14, 2004. She was born June 27, 1911, in Tankersly, Texas, to David and Lily Martin, who were early pioneers in Tom Green County. She went to school in Tom Green County and graduated from San Angelo Business School in 1929, and worked for the Singer Sewing Machine Company. She married Lloyd Alcorn in San Angelo, July 9, 1930. They moved to Ector County in 1934, where they made their home where Lloyd became instrumental in the early development of the Permian Basin oil field. They celebrated their 70th anniversary together on July 9, 2000, with all of their children, grandchildren and great-grandchildren with them. They were proud to have four children, eight grandchildren and 17 great-grandchildren.
Elsie was a loving wife, mother and grandmother. Her first grandchild called her Mema and she has been known as Mema by everyone since then.
Elsie was preceded in death by her husband; her two oldest daughters; her parents; four brothers; and three sisters.
She is survived by daughter, Mary Grace Van Cleve of Arlington, TX; and son, Lloyd Alcorn Jr. and his wife, Suzanne, of Waco, TX; and the eight grandchildren; 17 great-grandchildren.
The family would like to give special thanks to Donna Newton and her family as she was Mema's friend and closest companion during her last several years.
The family would also like to thank Hospice House of Odessa for the tender love and care given to Mema. Memorial gifts may be made to Hospice House of Odessa.
A family visitation will be held from 7 p.m. to 8 p.m. Friday, December 17, 2004, at Frank W. Wilson Funeral Directors. Funeral services will be held at 11 a.m. Saturday, December 18, 2004, with Dr. Jimmy Braswell officiating. Interment will be at Sunset Memorial Gardens.
Services entrusted to Frank W. Wilson Funeral Directors.