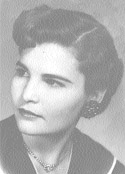 Marie Abbott

ODESSA — Marie Abbott, 66, a longtime resident of Odessa, passed away Tuesday, October 5, 2004, at Regency Hospital. She was born May 22, 1938, in Rule, Texas. She married Ernest Abbott on August 13, 1955, in Rule. He preceded her in death in 1974. She had worked for Texas Instruments for a number of years. She was a member of Sunset Heights Baptist Church. Marie was a softball pitcher and had played on the Odessa team that won state.
She is survived by her sons, Doug Abbott and wife, Alice, of Gardendale and Allan Abbott of Coleman; brothers, James Richardson of Long Beach, Calif., and Pat Ray Richardson of Las Vegas; sisters, Lucille Ketchum of Pampa, Texas, and Linda Roper and Helen Kizer, both of Amarillo; and two grandchildren, Wil James Abbott and Martina Belen Abbott.
There will be a visitation from 6 p.m. to 8 p.m. Thursday, October 7, 2004, at Hubbard-Kelly Funeral Home.
Funeral services will be held at 10 a.m. Friday, October 8, 2004, at Hubbard-Kelly Funeral Home Chapel with the Rev. Jess Little officiating. Interment will follow at Sunset Memorial Gardens.
Services entrusted to Hubbard-Kelly Funeral Home.