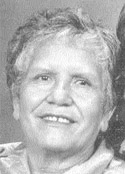 Maria Gutierrez

ODESSA — Maria Gutierrez passed away September 26, 2004. Maria was born April 8, 1925, and on January 1, 1949, she married Jesus N. Gutierrez. They moved to Odessa from Pecos in 1957 and had resided here since.
Maria is preceded in death by her mother, Mrs. Eusebia Chavez from Pecos; sons, Manuel Chavez and Julian Chavez, both from Odessa and Ector Gutierrez from Roswell, New Mexico; daughter, Olivia Gutierrez from Odessa; brothers, Trinidad Gomez, Alberto Gomez and Roberto Gomez; and sister, Severa Gutierrez.
Maria was a homemaker and enjoyed cooking and taking care of her grandchildren. She enjoyed seeing her family at all functions, especially Christmas time. She will be greatly missed. Christmas will never be the same.
She is survived by her husband, Jesus N. Gutierrez; daughters, Connie C. Cheek from Garland and Rosie G. Gutierrez; sons, Raymond Chavez, Jesse Gutierrez Jr., Rudy Gutierrez and Sammy Gutierrez; sister, Manuela Garcia from Barstow; brothers, Julian Gomez, Chon Gomez from Barstow, Felix "Chele" Gomez from Casa Grande, Arizona and Augustine Chavez from Phoenix, Arizona; 28 grandchildren; and 32 great-grandchildren.

The Rocking Chair
I shall buy a rocking chair
like the one my granny owned
then I'll rock as I evoke
the remembrances she left
She took pleasure
in her chores
making beds
and mending clothes
moping floors
and watering plants
as she sang
her favorite songs
I will dream beneath
the shade
of her walnut's leafy boughs
and again step on the mats
of her threshold and her den
Then I'll turn her radio on
or I'll play her phonograph
so we'll listen to the songs
that would drive
her blues away
In my mind's eye I now tread
through the alleys
and the streets
and along the railroad tracks
of the barrio where she lived

How I miss those
carefree days
and the nightly summer tales
that she told with art
and zest
as I listened hypnotized
I can picture her again
sitting on her rocking chair
with her rosary on her hands
and a prayer on her lips
'Twas from her
I learned to say
the "Hail Mary"
and "The Creed"
and a prayer to the Lord
in the hour of my need
She imparted in my life
her unswerving stance
and faith
with a strength that
works for me
any place I chance to be
If today I overcome
the reverses that I face
I'm beholden to her care
and the values
she espoused.
Many years have
since gone by
and I'm wondering
what became
of that squeaky rocking chair
her old faithful confidant
Oh, I'll buy another one
and I'll rock and pray like her
with my fingers on the beads
of the rosary that she left
I shall pray as she did then
In the silence of my room
For the safety of my kin
And a safer, peaceful world.
– Roberto Galvan

Rosary times for Maria will be Sept. 29, 2004, and Sept. 30, 2004, both at 7 p.m. Funeral service will be held at St. Joseph Catholic Church on Friday, Oct. 1, 2004, at 2 p.m. with burial following at Sunset Memorial Gardens. Pallbearers will be Raymond Chavez Jr., Jesse Gutierrez III, Jeremy Dominguez, Sammy Gutierrez Jr., Brian Cheek, Ray Del Bosque, Paul Chavez, Ryan Del Bosque, Steve Chavez, Michael Sanchez, Julian Chavez, David Gonzales, Johnny Ray Gutierrez and Mario Chavez.