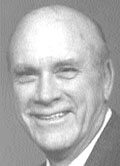 Don Doughten

ODESSA — Don Doughten, 74, a longtime resident of Odessa, passed away Tuesday, August 24, 2004, at Medical Center Hospital. He was born January 23, 1930, in Eldorado, Okla. He served in the U.S. Army during the Korean Conflict. He worked 30 years for El Paso Products. He was a charter member of Sherwood Church of Christ. He married Marilyn June Fritz August 25, 1994, in Odessa.
He was preceded in death by his first wife, Jane Doughten in 1993; his parents; two sisters; and two brothers.
Don was called Papa by his family and he is survived by his wife, Marilyn Fritz Doughten of Odessa; son, Kevin Doughten and wife, Robbie, of Buda, Texas; daughter, Debbie Marrs and husband, Tony, of Odessa; stepson, Fred Fritz of Virginia Beach, Va.; stepdaughter, Jenna Jarvis and husband, Rick, of Odessa; and 11 grandchildren, Elisha, Laura, Robert, Kelly, Kaci, Tanis, Deeon, Morgana, Ian, Zane and Gil.
Funeral services will be held at 10 a.m. Thursday, August 26, 2004, at Sherwood Church of Christ with Lynn Money officiating. Interment will follow at Sunset Memorial Gardens.
In lieu of flowers, memorials may be made to the Odessa Christian School.
Services entrusted to Hubbard-Kelly Funeral Home.