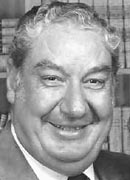 Evan Dalton Jr.

ODESSA — Evan Dalton Jr., 72, a longtime resident of Odessa, went home to be with the Lord on Oct. 1, 2004. Evan was born Sept. 15, 1932, in Pecos, N.M., to Evan Sr. and Magdelena Dalton.
He came to Odessa in 1952. He was in the U.S. Army from 1953 until 1955. He served at Fort Sill, Oklahoma and also Fort Hood, Texas.
Evan met Betty Blanton in 1956. They married Dec. 29, 1958. They were blessed with three children, Evan Robert in 1960, Debra Lynne in 1962 and Timothy Alan in 1965. Sadly he lost Betty in 1993.
Evan was employed by E&M Supply for five years. He then ventured into the Oilfield Electrical Industry. He worked for O'Brien Electric in Monahans. Then for Zimco Electric Supply from 1965 until 1986; where he was in outside sales and served as General Manager for many years. Evan owned Thrifty Furniture and American Discount Furniture. He later owned Thrifty Furniture Upholstery. He retired in March 1999.
Evan married Joann Jennings Dec. 24, 1994.
Evan enjoyed playing golf with his son Rob and grandsons Andrew and Luke, also many of his buddies. His five grandsons were the light of his life.
"Dad, we are so thankful for you, for your love and understanding, your advice and guidance in life's many challenges. We are proud to have had you for our father."
Evan was preceeded in death by wife, Betty; and parents, Evan Sr. and Magdelena Dalton.
Evan is survived by his wife, Joann Dalton of Odessa; son, Evan Robert Dalton and wife Debbie and their sons, Andrew Evan and Luke Anthony and Chad Daniel and Cody Alan Friedrichsen, all of Houston, Texas; daughter, Debra Lynne Kelly and husband Joe and their sons, Ryan Joseph and Theron Robert, all of Odessa; son, Timothy Alan and wife Dorothy and their son, Drake Andrew of Spring, Texas; brothers, Henry and Charles Dalton of Pecos, N.M., and nephews Gilbert of Grand Junction, Colo., Ernest and Joey Dalton of Pecos, N.M.; stepson, Larry Shepherd and wife Penny and their sons, David Shepherd and wife Maria and Randy Shepherd; and numerous relatives.
Services will be held at 3 p.m. Monday, Oct. 4, 2004, at Sunset Memorial Funeral Home Chapel with Jeff Trahan and the Rev. James Bishop officiating.
The family will receive friends from 4 p.m. to 6 p.m. today at Sunset Memorial Funeral Home. Burial will follow at Sunset Memorial Gardens.
In lieu of flowers, the family suggests donations to the American Heart Association.
Services are entrusted to Sunset Memorial Funeral Home.