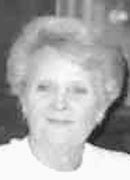 Laura Lou Carson

ODESSA — Laura Lou Carson, 74, passed away Thursday, September 23, 2004, at Manor Park in Midland.
She was born December 17, 1929, in Harrah, Oklahoma to Virgil and Mattie Burleson Waner.
Funeral services will be 3:30 p.m. Saturday in the Frank W. Wilson Funeral Chapel with the Rev. Nick Gates officiating. Burial will follow at Sunset Memorial Gardens. Services entrusted to Frank W. Wilson Funeral Directors.
She was preceded in death by her parents; a son, Tracy Carson; and sisters, Polly Sue Randolph and Dana Mae Harris.
Laura was a faithful wife, loving mother and grandmother.
She is survived by her husband of 50 years, W. H. Carson of Odessa; son, Arthur Glee Carson and wife, Thelma Lou, of Ozona; daughters, Nancy Henry and husband, Jack, of Odessa, and Roxann Corona and husband, David, of Alvin; brother, Jimmy Waner of Odessa; five grandchildren, Scotty Carson, Jacque Henry, Chrissy Carson, K. C. Carson and Misty Carson; and several nieces, nephews and other family and friends.
The family would like to thank The Younger Center and Home Hospice for their caring nature and professionalism.