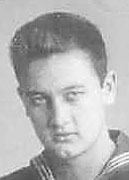 Vernon R. Branscum

ODESSA Vernon R. Branscum of Odessa passed away Thursday, December 9, 2004, after a lengthy illness. He was born February 22, 1928, in Artesia, New Mexico, to James Richard and Chloa Branscum. He was the sixth of eight children.
Seaman 1st Class Branscum joined the U.S. Navy and proudly defended his country in the Pacific theater during WWII, serving on both the USS Bosque and the USS Vulcan. He was a member of the first U.S. occupational troops to Hiroshima, Japan after the bomb was dropped. He remained proud of his service to this country to the end. Upon his discharge he moved to Odessa, where he met Lucille Boland. Their first date was on April 16, 1947, and they were married on January 6, 1948, sharing the next fifty-six years side-by-side.
Together they had five children, sixteen grandchildren and fourteen great-grandchildren. Vernon worked in the oilfields of West Texas and was well known as a Caser and Field Representative for Redís Casing Crews.
Vernon will be remembered for the love he had for everyone he knew. Vernon always had a song in his heart and would sing for anyone who would sit and listen. He loved to Bar-B-Q and he loved making milk shakes for his grandkids.
More than anything Vernon loved his family, each and every one. He was preceded in death by his son, James Kelly Branscum. Vernon is survived by his wife, Lucille; daughter, Karen May and her husband, Marc; daughter, Diane Wright and her husband, Eddie; daughter, Linda Miller and her husband, Charlie; and son, Stacy Branscum and his wife, Diana. He is also survived by his sixteen grandchildren, Brian Hamilton, Trey Shelton, Travis Miller, Tamara Shelton, Chad May, Jon Wright, Amanda Branscum, Bonnie Branscum, Clayton Miller, Natasha Branscum, Dustin Branscum, J.R. Branscum, Megan May, Macy May, Laura Catherine Branscum, and Tricia Branscum. Vernonís great-grandchildren are Kelly Allen, Joshua, Josiah, Dylan, Coby, Madison, Skylar, Blane, Adam, Noah, Makaila, Morgan, Breanne and Katlyn. Vernon is also survived by three sisters, Opal Self of Odessa, Naoma Welch of Burnet, TX, and Shirley Johnson of Austin, TX. He passed in peace with the loving care of Odyssey Hospice.
Services are scheduled for Sunday, December 12, 2004, at 2 p.m. in the Sunset Memorial Gardens Chapel with Reverend Jay Mayo officiating.