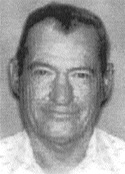 Terry Lee Boren

ODESSA — Terry Lee Boren, 54, of Odessa passed away Saturday, March 27, 2004, at Regency Hospital in Odessa. Mr. Boren was born March 24, 1950, in Monahans, Texas, to Jack and Katie Lou Boren. He was a Christian and worked in the Oil Field Industry.
He was preceded in death by his parents and brother, Butch Boren.
He is survived by his best friend and companion, his dog "TOJO;" brother, Ronnie Boren and wife, Laura; three nephews, Shane and wife, Mandy, Ronnie Boren Jr. and wife, Shonda, Jeff and wife, Diana; and two great-nephews, Jaden and Tyler Boren, aunt, Lota Freeman, uncles, Dick Mcanally, all of Odessa, and Jack Mcanally from Palestine; and lots of friends.
Pallbearers will be Shane, Ronnie Jr. and Jeff Boren, Jack Capps, James Hughes and Mike Hughes.
Visitation will be from 9 a.m. to 9 p.m. today at Odessa Funeral Home. Services will be at 1 p.m. Wednesday, March 31, 2004, at Faith Community Baptist Church with the Revs. Wayne Shelton and Roylee Epperson officiating with interment to follow at Sunset Memorial Gardens.
Services by Odessa Funeral Home.