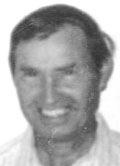 Kenneth Wayne Baucom

ODESSA Kenneth Wayne Baucom, 68, of Odessa, passed away on December 26, 2004. Kenneth was born October 29, 1936, to William "Bill" Baucom and Bertie Baucom in Clute, TX. He was owner of an Independent Service Station. On January 7, 1956, Kenneth married Clara Bow Ward in Alvin, TX, they moved to Odessa in June of 1957, where Kenneth was a Roughneck for 13 years. He was a Lifelong Baptist.
Kenneth is preceded in death by his father, William "Bill" Jonathan Baucom; mother, Bertie Taylor Baucom; sister, Verlin McCleary; fathers-in-law, J. B. "Curly" Ward and William L. Strawn; brother-in-law, Hardy Clemmons; and sister-in-law, Kathy Ward.
Kenneth is survived by his loving wife of 49 years, Clara Ward Baucom; son, Mike Baucom and Patricia Glenn of Midland, TX, and Steve and Kelley Baucom of Odessa, TX; daughter, Tammy Baucom of Bedford, TX; grandchildren, Ashley and Brittany Baucom and Chris and Nikki Turpin; brothers, James and Ruby Baucom of Dallas, TX, and Herschel and Dorthy Baucom of Mabank, TX; sister, Dorothy Clemmons of Scurry, TX; mother-in-law, Helen Ward Strawn; brothers-in-law, Ben Strawn and Bob Ward of Odessa, TX; sister-in-law, Kay Lackey of Odessa; and many nieces, nephews and cousins.
There is a visitation scheduled at Sunset Memorial Funeral Home from 6 p.m. to 8 p.m. on Wednesday, December 29, 2004.
Services are scheduled for Thursday, December 30, 2004, at Sunset Memorial Funeral Home Chapel at 10 a.m. with Charlie Weaver officiating. Burial will follow at Sunset Memorial Gardens.
Services are entrusted to Sunset Memorial Gardens and Funeral Home in Odessa, TX.