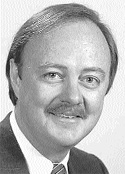 Gary Lynn Watkins

ODESSA — The Honorable Gary Lynn Watkins, 57, lifetime resident of Odessa, passed away at Alliance Hospital in Odessa Sunday, August 8, 2004.
Gary was born December 12, 1946, in Crane, Texas. He was an attorney and public servant who served Odessa as Ector County Judge, State Representative and State District Court Judge. Gary was a member of, and served on the boards for, numerous civic, charitable and religious organizations. He was a member of Saint Elizabeth Ann Seton Catholic Church.
Gary is survived by his mother, Leona Watkins of Odessa; wife, Hope Watkins of Odessa; five children, Trent Watkins, Heather Watkins, Summer Roberson and her husband, Chris Roberson, Travis Watkins and Grant Watkins.
Pallbearers include Mike Atkins, Billy Bassett, Fred George, Tim Haines, Mike Morris, Ted Stewart, Steve Watson and Steve White. Honorary Pallbearers will be Billy Atkins, Floyd Butler, The Honorable Jay Gibson, The Honorable Bill McCoy and The Honorable Tryon Lewis.
A rosary was said at 7:30 p.m. Monday, August 9, 2004, at Saint Elizabeth Ann Seton Catholic Church. A Funeral Mass will be celebrated at 2 p.m. Tuesday, August 10, 2004, at Saint Elizabeth Ann Seton Catholic Church with the Father Mark Woodruff and Father James Bridges officiating. A private family burial will follow at Sunset Memorial Gardens.