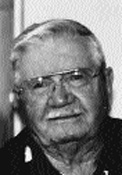 Ruben Weldon Lewis

ODESSA – Ruben Weldon Lewis, 87, of Odessa, passed away Monday, July 12, 2004, in St. Petersburg, Florida.
He was born June 25, 1917, in Montague County, Texas, son of the late Mr. & Mrs. R.C. Lewis of Overton, Texas.
Weldon grew up working in the East Texas oil fields, where he met and married Elizabeth Mouser in 1936. Together they endured the hardships of the great depression, war and other difficulties of that time period while they moved to Oklahoma, New Mexico and then on to West Texas. In 1940, their first child, James C. Lewis (Jim) was born and then in 1953 their second, Randy W. Lewis. Weldon retired from Halliburton in 1967 in Crane, Texas, and moved his family to Odessa, where he was employed by Basin Packer for the remainder of his career. Weldon and Elizabeth were happily married 41 years before he lost her to cancer in 1977.
In December of 1979, Weldon married Cathie Deason. They sold their home and joined the RV life where for more than 20 wonderful years they created memories of travel and affection. Their summer home was in the mountains of northern Arkansas, and they weathered the winters in the Rio Grand Valley. The road between those two points was full of friends and family they loved to stop and visit. They retired to Bradenton, Florida, in 2001.
Weldon was an inspiration to us all, because he was such a kind and generous man who never had anything bad to say about anyone. He loved his family and enjoyed traveling, music and living the simple life. He was a Master Mason and a member of the Fellowship Lodge No 1385 in Odessa. He was also a devoted member of the Colonial Baptist Church in Bradenton, Florida.
He was preceded in death by his parents Mr. & Mrs. R.C. Lewis, wife Elizabeth, and son Jim.
Survivors include his wife, Cathie Lewis of Bradenton, Florida, son Randy and wife Tina of Odessa, son Emory (Mo) Deason and wife Tudi of Montgomery, Alabama, daughter Lynell Nash of Bradenton, Florida, brothers William Lewis of San Angelo, Joe Lewis of Fort Worth, 8 grandchildren and 8 great-grandchildren.
Graveside services are scheduled for 10 a.m. Saturday, July 17, 2004, at Sunset Memorial Gardens.
The family will receive visitors from 8 p.m. until 9 p.m. Friday, July 16, 2004.