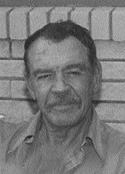 Jackie J. Lepard

ODESSA ó Jackie J. Lepard was born on April 22, 1935, in Merkel, Texas, to W.C. and Mary Ruth Lepard. He passed away May 10, 2004, in Odessa, Texas, at the age of 69.
Jackie graduated from Coahoma High School where he played football for the Coahoma Bulldogs. He then went on the complete his basic training in Fort Chaffee, Ark., for the United States Army and served as a Private First Class. He received an honorable discharge in 1963.
Jackie married Joyce on December 6, 1964, in Carlsbad, Texas. They moved to Odessa in 1969. Jackie retired from Southwestern Portland Cement Company after 25 years. He took a brief retirement for six years and then went to work for the ECISD Transportation for three years which he enjoyed very much. Jackie was a strong man and full of energy. He loved his wife, kids, and grandkids very much and will be greatly missed by all.
He was preceded in death by his parents and one son Greg.
Survivors include his wife, Joyce Lepard of Odessa; children, Mike Lepard of Odessa, Durinda Cosper and husband, Jim, of Dallas; four grandchildren, Chelsea Boiles, Kimi Cline, Jimmy Cosper and J.J. Lepard; two brothers, Waymon Lepard of Big Spring, Glenn Lepard of Midland; two sisters, Doris Taylor of Wichita Falls, Ann McLarin of Lubbock; several nieces and nephews and other relatives.
A special thanks to Dr. Kaczor, Dr. Borra, staff at West Texas Cancer Center and Odyssey Hospice for the care he received. A loving special thanks to our nurse, Shannon.
Graveside services will be at 10 a.m. Thursday, May 13, 2004, at Sunset Memorial Gardens, with the Rev. Owen Sharp officiating.
For Papaw: I will win
Why does it have to be him, This time I feel like I didnít win, Everything has gone bad, It makes me so mad, The doc said 3 months, if only I didnít believe someone for once. I could keep my faith going. I can keep it from showing, But that doesnít mean its not there, I donít think I can bear it anymore, I feel like he has reached heavens door. But I will never give up on him, Maybe in the end I will win. Love Your Grandson, J.J. Lepard.
Services by Odessa Funeral Home.