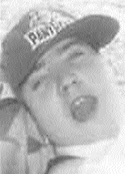 Christopher Doyle Lawrence

ODESSA — Christopher Doyle Lawrence died Monday, May 24, 2004, at his residence. He was born January 18, 1985, in Odessa to Clayton Lawrence and Christina Rimes.
Funeral Services will be held at 3 p.m. Friday, May 28, 2004, at Temple Baptist Church with Dr. Jimmy Braswell officiating. Interment will be at Sunset Memorial Gardens.
Christopher touched many lives without a word being spoken. He will be missed by all who knew and loved him.
Christopher is preceded in death by his grandfather Johnny Rimes.
Christopher is survived by his mother, Christina Rimes of Odessa, father, Clayton Lawrence of Odessa; brother, Chad Nease of Odessa; grandparents, Sherry Rimes of Odessa and Jackie and Charles Lawrence of Houston; aunts, Shawna Renee Moore and husband, Tom, and Laurie DeCair and husband, J.J., all of Odessa and Lisa Griffin of Houston; uncle, David Lawrence and wife, Debbie, of Houston; great aunts, Sally Brooks and husband, Steve, and Jean Ann Huckaby, all of Odessa; great uncle, Jimmy Francis and wife, Tanya, of Lubbock; cousins, Nicole DeCair and Dillon DeCair, both of Odessa and Shawn David Lawrence and Jeremy Griffin, both of Houston.
The family wishes to offer a special thanks to all of Christopher's previous caregivers and his nurses, Cindy Roach, Dana Gourd, Lorena O'neal, Betty Dillon, and Jennifer Wilkerson.