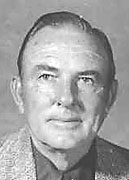 Jackie Talmadge King

ODESSA — J.T. King passed peacefully from this earthly life at 11:15 p.m. on Friday, Sept 3. He was surrounded by family members who knew him best and love him the most.
J.T. King was born on Jan. 19, 1924, son of Garland and Ina Griffin King in Tahoka. He graduated from Williams High School in 1941 and attended Texas Tech before marrying the love of his life, Brownie Lancaster, in San Diego on July 22, 1942. He joined the U.S. Marine Corps in 1943, serving in the Pacific Theatre and the post-war occupation of China as an exemplary member of the world's "Greatest Generation".
J.T. returned home to graduate from Southwest Texas State in San Marcos, under the G.I. Bill, where he played football and tennis.
Upon graduation, he moved his family to Odessa in the late 1940's to work for Shell Oil Company. J.T. was then hired by ECISD to coach and teach; thereby, fulfilling a life long dream and passion.
He coached and taught in the community he loved for 33 years before retiring in 1985. The profound impact of his positive influence will be greatly missed by those who knew him.
First and foremost a Christian, J.T. was an active member of the Eisenhower Church of Christ Congregation from its' inception in 1955 and was also involved with the Dougherty Street Church of Christ in Eastland. J.T. excelled at gardening, fishing, and studied the Bible on a daily basis.
J.T.'s father, mother, two brothers and great-grandchild, Alleen Garnett, precede him in death. Survivors include his wife Brownie Lancaster King; four children and their spouses, Jackie and David Tomme of Longview, James and Kathy Namken King of Odessa, Kade and Monica Mabry King of San Antonio, and Beth King Nock and Fred Nock, also of San Antonio; and sister Mary Lou King of Breckenridge. Surviving grandchildren are Jay Tomme of Longview, Melanie Tomme Garnett and Derrick of Colorado City, Jason King of Odessa, Dustin and Melissa Rayborn King of Flower Mound, Amanda King of Austin, Megan and Coleman Nock of San Antonio and great-grandchildren Maddie Garnett and Katie King.
Family will receive visitors from 2-4 p.m. on Sunday at Frank W. Wilson Funeral Directors. Services will be at noon on Monday, Sept. 6, 2004 at the Eisenhower Church of Christ with Burt Groves officiating. Graveside services will be at 10 a.m. on Tuesday, Sept. 7, 2004 at Sunset Memorial Gardens.
The family suggests memorials be made to the Eisenhower Youth Fund.
Arrangements entrusted to Frank W. Wilson Funeral Directors.