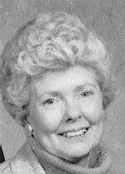 Alpha Tatum Jones

ODESSA — Alpha Tatum Jones, of Odessa, a woman personified by her faith in God, a love for her family and a dignity apparent to all, passed away Saturday, July 31 in Baytown, TX. She was born August 4, 1922, in Carter, Oklahoma and resided in Odessa most of her life. A member of First Baptist Church for more than fifty years, Alpha served as past president of the WMU, active supporter of the children's and youth programs and encourager to all. Her loyalty to those in need was unsurpassed. Other organizations include the Odessa Study Club and Meals-on-Wheels. Her gifts of laughter and love will be missed.
She is preceded in death by her husband of 52 years, E.W. "Bill" Tatum, who passed away in 1990. She is survived by her four children, Linda (Ray) Christian of Odessa, Larry (Barbara) Tatum of Plano, Tina (Jay) Wash of Baytown and Craig Tatum of Long Beach, California. She leaves behind her husband of thirteen years, Robert Jones of Lake Tahoe (Stateline), Nevada. Grandchildren include Sherri, Steve, Lorri, Tish, Tiffany, Brandon, Brittaney and Meagan as well as eight great-grandchildren and one great great-grandchild. Her greatest desire was to share her faith with her family and friends.
Graveside services will be held at 11 a.m. Tuesday, August 3 at Sunset Memorial Gardens.
Arrangements under the direction of Navarre Funeral Home, 2444 Rollingbrook, Baytown, TX. 77521, 281-422-8111.