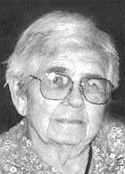 Cletis Josie Hutson

ODESSA — Cletis Josie Hutson, our "MaMa", 97, of Odessa, passed away Wednesday, July 28, 2004, at her residence. She was born March 27, 1907, in Nacogdoches County. In 1954, after farming in Nacogdoches County for years, she and her family moved to Odessa. She was a charter member of Central Baptist Church. She enjoyed children and taught the Beginners Sunday School Class for 13 years at the old Immanuel Baptist Church.
Before her health failed she enjoyed working in her greenhouse, gardening and sharing her flowers with friends. Mrs. Hutson also enjoyed visiting in nursing homes, helping with the sick and she worked as a volunteer with Meals On Wheels for many years.
She was preceded in death by her husband of 52 years, Willie Ray Hutson; brothers, Lyndell Lowery and Woodrow Lowery; sisters, Vera Lowery, Esther Jacobs and Lorene Grogan; and her mother and father. Survivors include her son, Lowery Hutson and wife, Lou Ann, of Odessa; daughters, Mildred Lucas of Odessa and LaVerne Hill and husband, Grady, of Nederland; sister, Gertrude Parker of Dallas; grandchildren, Lynda Jackson, Bennie Jackson, Debbie Snodderly, Dee McKee, Steven Hutson, Geoffrey Hutson, Mike Wisener, Timmothy Wisener and Denna Whitaker, 15 great-grandchildren; and six great-great-grandchildren.
The family will receive friends from 2 p.m. to 4 p.m. Friday, July 30, 2004, at Hubbard-Kelly Funeral Home.
Services will be held at 3 p.m. Saturday, July 31, 2004, at Sunset Heights Baptist Church with Brother Jess Little of Sunset Heights Baptist Church officiating. Interment will follow at Sunset Memorial Gardens in Odessa.
Pallbearers will be her grandsons and nephews. In lieu of flowers, contributions may be made to Odessa Meals On Wheels in her memory.
Services entrusted to Hubbard-Kelly Funeral Home.