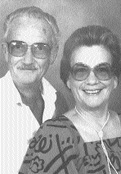 Deana Luker Hurt

ODESSA — Deana Luker Hurt, 81, passed away peacefully, Sunday, July 18, 2004, at her residence in Odessa and joined her beloved "Bud" in eternal bliss. She was born October 3, 1922, in Cuero, TX., to James Robert and Lena Bessie Howe Luker.
Deana married George Edward Hurt Jr. on August 16, 1942, in Lake Charles, La. He preceded her in death. Deana was a homemaker and a former Model Shop employee.
She is survived by her son, Robert Lee "Bob" Hurt and wife, Linda Lee, of Irving, TX., her daughter, Colette M. Hurt Stepp and husband, Terry Vernon, of China Spring, TX., her daughter, Deana Georganne Hurt McConaughey of Midland, TX., and son, Terry Gene Hurt and wife, Terry Lynn, of Odessa, TX. She also is survived by her three brothers, Marvin Luker of Houston, TX., J.R. Luker of Odessa and Melvin "Teak" Luker of Weesatche, TX.; her sister, Colleen Trautwein of Victoria, TX.; eight grandchildren; and seven great-grandchildren.
Funeral services are entrusted to Hubbard-Kelly Funeral Home and will be at 1 p.m. Wednesday, July 21, 2004, at Hubbard-Kelly with Lynn Money officiating. Visitation will be from 7 p.m. to 9 p.m. Tuesday, July 20, 2004. Burial will be at Sunset Memorial Gardens.