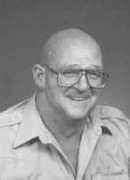 Eddie Nathan Holladay Sr.

ODESSA — Eddie Nathan Holladay Sr., 64, went home to be with the Lord on May 19, 2004.
He was born on April 8, 1940, to Wyatt Judson and Francis Gwyndolin Holladay in Fort Stockton, Texas, both of whom preceded him in death.
He was met by his beloved Momma Allen, Thomas Allen and Nathan and Bessie Holladay.
Eddie was a lifelong resident of Odessa. He graduated from Odessa High School in 1958. He worked in the oilfield until his retirement in 1985. He was also a member of the Gardendale Volunteer Fire Department.
Dad always had a laugh, a smile or a kind word. If anyone were to need him he would be there.
His love and kindness touched many lives through the years. He left a void in many lives, but he would not want the tears to fall, but a laugh or a smile because now he is free.
He is survived by daughters, Reneé Harris and husband Dean of Midland and Ginger Harper Parkey of Odessa; son, Eddie Holladay Jr. and wife Denise of Killeen; sisters, Mary Carol Lee of Denison, Gail Brayton and husband David of Duncanville and Sue Valenzuela and husband Almador of Andrews; brothers, Thomas Holladay and wife A.J. of Madisonville and Wayne Derrick of Artesia, N.M.; grandchildren, Chris, Cody, Carla, Samantha, Manuel Jr., Andrea, Justin, Tanya and Dominique Angella due to arrive in July.
He also leaves behind those special friends who brightened his life, Pat and Sondra Fowler and Darla and Nathan Frazier. His presence will be greatly missed by all who loved him.
Services will be held at 4 p.m. Tuesday, May 25, 2004, at Sunset Memorial Gardens
Funeral Home Chapel with burial to follow in Sunset Memorial Gardens. The family will have visitation from 6 p.m. to 8 p.m. Monday, May 24, at Sunset Memorial Funeral Home.
Pallbearers will be Cody Harris, Chris Holladay, Eddie Holladay Jr., Douglas Fowler, Jim Bob Fowler and Roger Searcy, Honorary Pallbearers will be Pat Fowler and Manuel Madrid Jr.
The family would like to send a special thanks to, Dr. James Burkes and staff, Dr. Bart Mayron and staff, Parks Methodist Retirement Village and Nurses Unlimited for all the loving care given to our dad over the years.