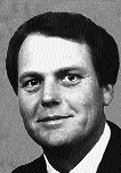 Douglas L. Hill

ODESSA — Douglas L. Hill, 47, of Odessa passed away Monday, July 12, 2004, in San Antonio.
He was born December 18, 1956, in Gatesville, son of Jackie Hill and the late Elwood Hill. He lived most of his life in Odessa.
Doug was a longtime businessman in Odessa, operating several businesses through the ups and downs of the tumultuous West Texas economy. He was a member of the Odessa Chuck Wagon Gang, as well as the CASI Black Gold Chili Pod. He enjoyed cooking for friends and family, and traveling with his wife. He especially enjoyed life in and around the Big Bend country.
He was preceded in death by his father and a daughter, Lydia Osborn.
Survivors include his wife, Sally "Sissy" Hill, and two sons and their wives, Adam and Faith Hill and Joshua and Natalie Jones, all of Odessa; his mother, Jackie Hill of Gatesville; three brothers, David Hill of Rome, Ga., Dan Hill and Dennis Hill, both of Odessa; grandchildren, Adrianna Jones, Cameron, Preston, Tyler and Brady Hill; and several aunts and uncles.
Funeral services will be held 10 a.m. Thursday, July 15, 2004, at the Lutheran Church Of The Risen Lord with the Rev. James Otterness officiating. Interment will follow at Sunset Memorial Gardens.
Services entrusted to Hubbard-Kelly Funeral Home.