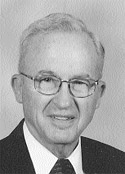 Neal Hilliard

ODESSA ó The family of Neal Hilliard would like to thank the Lord for the years that he spent as a loving husband, father and PaPa. He was a wonderful Christian man who leaves behind a legacy that will continue throughout future generations.
He was born December 15, 1932, in Cass County, Texas, to Onis and Beatrice Hilliard. Neal graduated from McLeod High School in 1950. Billie Ruth Sanders, his high school sweetheart, married him April 6, 1951. They shared 53 loving years together.
Neal was a longtime resident of Odessa, having lived here since 1973. He had worked for J & L Supply and LTV in West Texas, East Texas, and Oklahoma. He retired from the Ector County Independent School District in 1998.
His hobbies included working in his yard, making wooden crafts, talking about his grandchildren and great grandchildren, and playing games with them. He also enjoyed writing his congressmen, something he did for many years. He was proud of his membership in the NRA.
Neal was very active in Baptist work. He was an ordained deacon. He served as a trustee at Temple Baptist Church. He was a faithful participant in the Menís Prayer Breakfast every Saturday where you would find him setting up tables and collecting the money at the door.
Neal went home to be with the Lord June 22, 2004, at the age of 71 years old. He was preceded in death by his parents and brothers Perry Joe Hilliard, Glen Hilliard and Mike Hilliard.
Surviving Neal is his wife, Billie Hilliard. Two sons also survive him, Gary Hilliard of Iowa Park, Texas, and Monty Hilliard and his wife, Terry Hilliard, of Lubbock and his daughter, Karen Watkins and her husband, Lawrence Watkins, of Odessa. Neal has two living brothers, Charles Wayne Hilliard and his wife, Fannie Hilliard, of Atlanta, Texas, and Don Hilliard and his wife, Tommie Hilliard, of Denver City, Texas. He has one sister, Jean Boethel and her husband, Butch, of Bivins, Texas.
He was a special PaPa to his seven grandchildren and two great grandchildren. They were the joys of his life, Ryan Hilliard of Colorado Springs, Colo., Shandi and Hatsu Floyd of San Antonio, Chad and Ashley Hilliard, Cory Hilliard, Amber Hilliard and Craig Hilliard of Lubbock, and KK Watkins of Odessa. His two great-grandchildren, Brendon and Aedin Floyd, live in San Antonio. Neal also has numerous nieces and nephews.
The family will have visitation from 6 p.m. to 8 p.m. Thursday at Sunset Memorial Funeral Home. Services are scheduled for 10 a.m. Friday, June 25, 2004, at Temple Baptist Church with the Rev. Griffin Jones officiating. Burial will follow at Sunset Memorial Gardens. Arrangements are entrusted to Sunset Memorial Funeral Home.
Memorials, if desired, can be made to the Temple Baptist Mission Fund. Pallbearers will be David Pool, Jim McMahan, Jack Morris, Sam Rice, Don Adams and David Cowan. Honorary Pallbearers will be Roger Swift, Roy Smotherman and Russell Cowan.