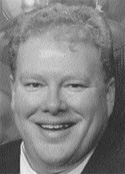 Bruce Grewell

ODESSA — Mason Bruce Grewell passed away Saturday, May 22, 2004, at Midland Memorial Hospital. Bruce was born March 30, 1961, in Odessa, Texas, to Helen and Charlie Grewell. Bruce attended Pease Elementary, Bowie Junior High School and Odessa High School. While at Odessa High School, he enjoyed being a member of the varsity golf team for three years. Bruce graduated from Odessa High School in May of 1979 and later thoroughly enjoyed a year in Ruidosa as an accomplished snow skier. He returned to Odessa and graduated from the University of Texas of the Permian Basin with a Bachelors of Business Administration in Marketing. Throughout his life, he had memorable camping and bird hunting trips with his father and brother as he was an excellent marksman. Bruce and his mother shared a love for reading and had many conversations about the books they enjoyed. Golfing, scuba diving and jet boating were also his passions.
Bruce married Kem on December 16, 1989, promising to love, honor, respect and cherish his wife and their marriage until his last moment on earth. No promise was more faithfully kept and treasured; no wife could have had a more loving and giving husband and friend in life.
Bruce was a kind and gentle parent to Nick and Jessica. He welcomed them into his heart and home. He thoroughly enjoyed experiencing their upbringing and milestones. We are certain he will be watching from Heaven as Jessica graduates from his high school alma mater this Saturday. Nick and Jessica have always loved Bruce and are so proud to have had him in their lives.
Bruce was in the gas compression industry for 16 years while developing his passion for gourmet cooking. He loved to host soirees from his many friends and family. Bruce was a great storyteller and relished entertaining people with love, laughter and food. Bruce treasured the small joys of life and knew when to stop and smell the roses. He was certainly an honored and vital member of his cherished families.
Bruce is survived by his wife, Kem Grewell; children, Nick and Jessica Matz; his parents, Helen and Charlie Grewell; his brother, Gabe Grewell; and 11 nieces and nephews.
Bruce was called home by God to be reunited with his grandparents, Ruby and Ward Mason Grewell and Ida and Arba Perry DeWitt, his cousin Scott Coleman, and the friends he held dear that have gone home before him.
Bruce will be greatly missed by each of us, but he lives on in our hearts and memories. We have his laugh and smile etched in our hearts.
Funeral services have been scheduled for 2 p.m. Wednesday, May 26, 2004, at the First United Methodist Church in Odessa, with the Reverend Terry Tamplin officiating. Interment will follow in Sunset Memorial Gardens Cemetery.
The family will receive friends from 5 p.m. to 7 p.m. on Tuesday May 25th at Sunset Funeral Home.
Services have been entrusted to Sunset Memorial Gardens and Funeral Home.