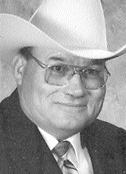 Elmer Carl Grant

ODESSA — Elmer Carl Grant, 67, passed away August 2, 2004. He is survived by his wife Martha Grant of Imperial. He was born in Petersburg, Okla., to Doise and Connie Grant. He was a 32nd Mason degree member of Masonic Lodge #1285 in Imperial, Texas. Raised April 13, 1971, life member granted September 9, 1987. Carl was the District Education Officer 1991-1997 and District Deputy Grand Master District 57 in 1978. The Grand Lodge in Texas A.F. and A.M. Carl was a member of the Order of the Eastern Star and served many years as the Worthy Patron. He was ordained as a Deacon of the First Baptist Church of Imperial, Texas, February 13, 1983. Carl coached little league baseball from 1967-1981.
Carl served on the Board of Trustee for the Buena Vista School District in Pecos County, Appraisal Board and Pecos County Water District #2. He was a leader for Boy Scouts, and Cub Scouts. Carl announced the football games at Buena Vista ISD for 37 years and was Santa Clause at the Christmas Programs for 35 years. Carl served in the National Guard. Memorials can be directed to the Jaden Memorial Foundation, P.O. Box 16789, Lubbock, Texas, 79490.
Elmer Carl Grant is survived by his wife, Martha Grant of Imperial; son, Marty Grant and his wife, Dottie, of Monahans; brothers, Wylie Grant of Rankin and Dwaine Grant of Wichita Falls; daughters, DeLane Cagle and her husband, Rick, of Rankin, Joy Choate and her husband, Rick, of Arlington and Pam McLaren and her husband, Steve, of Klondike, TX. He is survived by his grandchildren, Jacqueline Pullen and husband, Jeremy, of Odessa, Carla Davis and husband, Zeth, of Lubbock, Jennifer Hall and her husband, Joe, of Monahans, Cortney Cagle, Cody Cagle, Travis McLauren, Trevor McLauren and Tayton McLauren. He is survived by his great-grandchildren, Brooklyn Grant, Kaiden Hall and Crystal Davis. Carl was preceded in death by his parents, Doise and Connie Grant; his brother, Kenneth Grant; his sister, Josie Snapp; his grandchild, Amber Nessmith; and great-grandchild, Jaden Davis.
Pallbearers will be Brent Snapp, Stacy Snapp, Scott, Grant, Robert Grant, Mike York, Willie Gathings, Billy Graham, Casey Grant, Dustin Grant and Allen York. Honorary Pallbearers will be Leldon Greer, Bo Maben, A.D. Jackson, B.E. Burton, Gary Snapp, Robert Davison, Jon Bannister, David Mitchell, Bob Harris and Richard Nye.
Family members will be served lunch at the Second Baptist Church, 711 E. 17th Street, Odessa, Texas. Services will be held at 2 p.m. August 5, 2004, at Sunset Memorial Funeral Home with Brother John H. Walker Jr. officiating. Interment will follow at the Sunset Memorial Gardens Cemetery. Visitation will be from 6 p.m. 8 p.m. Wednesday August 4, 2004, at Sunset Funeral Home.
Services are entrusted to Sunset Memorial Funeral Home.