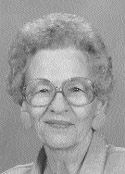 Opal Jo Gleaton

ODESSA — Opal Jo Gleaton of Odessa, died June 13, 2004, at Hospice House. She was born September 16, 1915, in Comanche, TX., to James and Lou Wranza Handlin.
Graveside services will be held at 10 a.m. Thursday, June 17, 2004, at Sunset Memorial Gardens.
Mrs. Gleaton married J. I. Gleaton, December 6, 1936, in Wink, TX. She was a homemaker and a member of Asbury United Methodist Church. She was always supportive of youth activities at church (First United Methodist and Asbury United Methodist). She enjoyed playing bridge and visiting with family members and friends.
She is preceded in death by her parents; husband, J. I. Gleaton; brothers, Lloyd Handlin of Kermit, Fred Handlin of Monahans and Cliff Handlin of Sacramento, Calif.; and sister, Robbie Martello of Awendow, S.C.
She is survived by her sons, Joe Gleaton of Odessa and Bryan Gleaton of San Antonio; sister, Lois White of Odessa; brother, James Handlin of Hollywood, Fla.; sisters-in-law, Pansy Handlin of Kermit, Bobbie Nichols of Monahans and Carrie Handlin of Sacramento, Calif.; brother-in-law, A.J. Martello of Awendow, S.C.; granddaughters, Cynthia Andrews of Virginia Beach, Va, Stephanie Gleaton of Plano and Shanan Moore of Odessa; five great-grandchildren; and several nieces and nephews.
If desired, memorials may be made to the youth group at the church of your choice or Home Hospice of Odessa.
Services entrusted to Frank W. Wilson Funeral Directors.