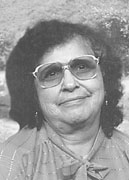 Rita Natividad Fuentes

ODESSA — Rita Natividad Fuentes, 82, of Odessa, passed away on Friday, Sept. 3, 2004, at the Hospice House in Odessa.
She was born on May 22, 1922 in Toyahvale. She married Crespin Contreras Fuentes in 1935. He preceded her in death in 1987 as did her parents; Bonifacio & Julia Natividad, brothers; Julian and Santiago Natividad, sister; Rosa Rodriguez. Surviving are her sons; Rufus and wife Lucy Fuentes, Leo and wife Mary Nell Fuentes, Gene Fuentes and Henry Fuentes, all of Odessa, daughters; Alifonsa and husband Frank Vasquez, Agripina and Carlos Lara, Eralda Rodriguez, Velma and Joe Gallardo all of Odessa, Elisa Young of Lubbock and Fala and Jeff Mosansky of Costa Mesa, CA, brothers; Pedro Natividad of El Paso, Benito Natividad of Farmers Branch, sisters; Rufina Rayos of Pecos and Catarina Lara of Odessa, 40 grandchildren, 54 great grandchildren and 11 great great grandchildren.
A rosary will be recited at 7 p.m. Sunday, Sept. 5, 2004, at Odessa Funeral Home Chapel. Mass will be celebrated at 2 p.m. Tuesday at St. Joseph's Catholic Church with the Rev. Joseph Uecker officiating. Burial will follow at Sunset Memorial Gardens. Pallbearers will be Bobby Fuentes, Jerry Vasquez, Jessie Veliz, Stephen Fuentes, Michael Rodriguez and Jaime Fuentes.
Services by Odessa Funeral Home.