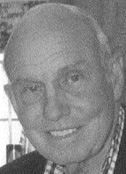 Lester W. Fisher Jr.

MIDLAND — Lester William "Les" Fisher Jr., 75, much loved husband, father, grandfather and friend, passed away Wednesday, May 5, 2004, in Midland after a long battle with Alzheimer's disease.
Les was born November 7, 1928, in Pecos, Texas, and later graduated in 1946 from Eunice High School in New Mexico. He attended Texas Christian University where he met his wife, Mary Wells Fisher, and graduated in 1951. Les worked for Station Construction Company for ten years after graduation from TCU and then moved to Odessa in 1961. He worked for El Paso Products (Rexene) until his retirement in May of 1988. Les and Mary moved to Midland in 1989. Les was an active member of North "A" Church of Christ in Midland where he also served as an elder until 1997.
Les devoted his life to his family, his faith and to serving his community. His love for God's work led him to teach Bible classes for teenagers for several years at Parkview Church of Christ when he and Mary lived in Odessa. Les had a particularly strong faith in God and put that faith to work in his relationships with other people but also when it came to his own life. When other neurological tests came up negative, and it became clear that Les had Alzheimer's, he took it in stride and trusted God to take care of him and his family.
Les believed passionately in developing the character of young men through sports programs and coached youth baseball as well as Pop Warner football for many years. Les also believed in giving his time to the community in which he lived. He served on the Board of Directors for the Odessa Boys' Club as well as serving on the Ector County Park Board. He served on the Board of Directors for the Village Place and Odessa Christian School as well as being a member and past president of Tri-Service Lions' Club and the Odessa High School Booster Club.
Les was an avid golfer and a life-long and tireless supporter of OHS football. He loved fly-fishing in Colorado with his son, his son-in-law, and his seven grandsons. He also loved watching his granddaughter play basketball, volleyball, and softball. He loved watching the athletes that he had coached as children grow up to become volunteer coaches for the next generation of young men.
Les's legacy will be one of generosity to his family, friends, and to those who needed help as well as to the community that he loved and proudly served. He will be remembered as a man of deep Christian conviction, quick laughter, compassion for others and gentle courage in the face of adversity. He will be missed by everyone who loved him.
Les was preceded in death by his father and mother, Lester and Hazel Fisher. He is survived by Mary, his devoted wife of 53 years; and his four children, Lerla Chism of Odessa, Shauna and Robert Thornton of Houston, Jim and Stacie Fisher of Flower Mound and Kwen Fisher of Midland; and his niece, Kimberly Stepp of Odessa. He is also survived by his two sisters, Christine and Blue Clark and Dorothy and Carl Schlemeyer; as well as his eight grandchildren; and numerous nieces and nephews.
Pallbearers will be his grandchildren Chad Chism, Clay Chism, Caley Chism, Kagan Thornton, Matthew Thornton, Trenton Thornton, Leslee Bond and Zachary Fisher.
The family will receive friends at Ellis Funeral Home Friday, May 7, 2004, between the hours of 6:30 p.m. and 8 p.m.
Funeral services have been scheduled for 3 p.m. Saturday, May 8, 2004, at North "A" Church of Christ in Midland with Greg Fleming officiating. Interment will follow at Sunset Memorial Gardens in Odessa. Arrangements are under the direction of Ellis Funeral Home, 801 Andrews Hwy., Midland, Texas.
In lieu of flowers, memorials may be directed to Odessa Christian School, 2000 Doran, Odessa, Texas 79761, Midland Christian School, 2001 Culver, Midland, Texas 79705, Boys' and Girls' Club of Odessa, 800 E. 137th St., Odessa, Texas 79761, North "A" Church of Christ,505 San Angelo St., Midland, TX 79701, or to a charity of one's choice.
The family would like to extend their heartfelt thanks and deep appreciation to the caregivers and nursing staff at Younger Center in Midland for their tireless efforts on Les's behalf and to the staff at Hospice Midland for their help and support during Les's final days.