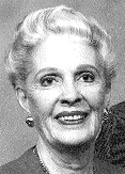 Billybob Newburn Dublin

ODESSA — Billybob Newburn Dublin was born on January 24, 1919, in Jacksonville, Texas to Dr. C.L. and Bertha Newburn and passed away on Tuesday, June 15, 2004, at Hospice House following numerous medical complications.
She was preceded in death by her husband of 57 years, Richmond E. "Pete" Dublin, and is survived by her son, Richie Dublin and his wife, Phyllis, of Shreveport, La.; her daughter, Vicki Patrick and her husband, Kae, of Odessa; her son, David Dublin of Odessa; her brother, C.L. Newburn of Jacksonville, Texas; and her granddaughter, Holly and her husband, Travis Shelton, of The Colony, Texas.
Billybob received her higher education at Jacksonville Baptist College, Baylor University (B.B.A.), Montessori training at the University of Plano, and Montessori certification from St. Nicholas, London, England. She began her private school, Fine Arts Day School, in 1954 as director and teacher, and experienced 27 years educating young minds in Odessa. As a member of First Presbyterian Church, she taught Sunday school in all grades and was a member of the Presbyterian Women. Billybob was an avid bridge player. She, her husband, daughter and friends enjoyed traveling in Ireland, China, Switzerland, Germany, Holland, Spain, Scotland, Puerto Rico, Mexico and Costa Rico.
Billybob was happiest during her 54 years in Odessa when she was giving to her community. One of her favorite contributions was her local children's show, "Small Fry," featured on KOSA-TV in the 1950s. She was a member and officeholder in Thursday Study Club, and the Western District of Texas Federation of Women's Clubs. As an active member of Ector County Republican Women's Club, she conducted officer installations and was a delegate to many Texas and National Republican Conventions. Billybob was an honorary life member of Ector County Republican Women's Clubs where she organized the "Freedom Letter Campaign" for freeing POWs and obtaining news of MIAs. She was a member and officer in Wednesday Book Club, Pan-American Roundtable, Knife and Fork Club, and Odessa Women's Forum. She worked as a volunteer and as the Candy Stripers sponsor at both Women and Children's Hospital and Medical Center Hospital. With the help of Lucy Baines Johnson, she organized screening for pre-schoolers' eyes. She was a board member and/or officer of Permian Playhouse, Midland-Odessa Symphony, Globe of the Great Southwest, Art Institute of the Permian Basin, Presidential Museum and Civic Concert. She received the Diana Award of Epsilon Sigma Alpha and Odessa Heritage Society's Community Service Award. Billybob loved her community, her family and her many friends. She will be greatly missed by all those close to her.
Visitation will be at Sunset Funeral Home from 5 p.m. to 7 p.m. Thursday, June 17, 2004. Interment will be at 9 a.m. Friday, June 18, 2004, at Sunset Memorial Gardens and a memorial service will follow at 10 a.m. at First Presbyterian Church in Odessa. Dr. J.D. Cone and Mrs. Nora Fitch will officiate. Gifts and memorials may be made to First Presbyterian Church, Home Hospice, Odessa College or the charity of your choice.
Services have been entrusted to Sunset Funeral Home.