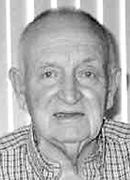 Floyd Doty

ODESSA — Floyd "Papa" Doty, beloved father and grandfather, passed away Thursday, July 22, 2004. He moved to Odessa in 1931 and graduated from Odessa High School in 1937. He attended Decatur Baptist College and McMurry College and played football, basketball, baseball and tennis.
He was drafted into the Army on August 12, 1941, and completed Seacoast Artillery O.C.S at Fort Monroe, Virginia. He was commissioned Second Lieutenant on October 2, 1942, and was stationed in Hawaii, the Mariana's, the Philippines and Okinawa. At the war's end, he returned to San Francisco and was promoted to Captain. In March of 1946, he left active service. He was always thinking of those that did not return from World War II. Doty became a licensed master plumber in 1949 and worked in the plumbing and pipefitting industry in Texas, Arkansas, Idaho and California, but he always hurried back to Odessa. He was a member of the First Baptist Church and past president of the Odessa chapter of AARP. He loved playing and watching any sport or competitive game and visiting and laughing with his friends and family. Doty will be remembered for his unconditional love, outstanding character and sense of humor. He will be missed tremendously by those who loved him dearly.
Doty was born September 9, 1919, in Morgan, Bosque County, Texas, to Floyd D Doty and Edna Earl Phipps. He moved to Odessa in 1934, and married Patricia Key on November 21, 1949. They loved being together and traveled across the United States with his job, always enjoying the people and the new and different areas of the country.
Doty is survived by his daughter, Elizabeth Faught and her spouse, Elton Faught, of Odessa. "Papa" was blessed with six grandchildren, Cynthia Malone of San Antonio, Doty Brown of Odessa, Ginger Mason of Greenville, South Carolina, Daniel Reed Jr. of Houston, Kathy Switzer of Magnolia and Krista Reed of Magnolia; and eleven great-grandchildren.
Doty is preceded in death by his spouse, Patricia Key Doty; son, Daniel Melvin Reed; parents, Floyd D. Doty and Edna Earl Phipps; and sister, Erecelle Wirt.
The family will receive guests at Frank W. Wilson Funeral Directors from 4 p.m. to 6 p.m. Saturday, July 24. Funeral services will be at 3 p.m. Sunday, July 25, 2004, at the First Baptist Church in Odessa with Pastor Johnny Young officiating. Pallbearers will be Elton Faught, David Brown, Ron Benke, Landon Miller, Kyle Brown and Forest Mathews. Interment will immediately follow at Sunset Memorial Gardens.
In lieu of flowers, donations may be made to Hospice House, 903 N Sam Houston Ave., Odessa, Texas, 79761.
Arrangements entrusted to Frank W. Wilson Funeral Directors.