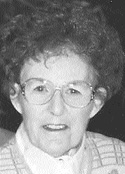 Jackie J. Dorris

ODESSA ó Jackie J. Dorris, a homemaker of Odessa, passed away Sunday, May 23, 2004, at her residence. She was born February 23, 1932, in, Tulsa, Okla., to John Burl and Mary Helen Pritchett.
A family visitation will be held from 6 p.m. to 8 p.m. Tuesday, May 25, 2004, in the chapel of Frank W. Wilson Funeral Directors.
Funeral services will be held at 10 a.m. Wednesday, May 26, 2004, at Temple Baptist Church with Griffin Jones officiating. Burial will follow at Sunset Memorial Gardens.
Jackie Dorris, beloved wife, mother, grandmother and sister departed this world to be with her lifelong Friend and Savior in glory. She was eagerly anticipating this long-awaited event with joy and peace. Jackie gave her entire life in service to her family and others and in keeping with her deep compassion she was always a champion for the weak. Gladly and wholeheartedly, she gave of herself and her resources so many children would be fed and clothed. But her greatest joy was in telling them about her Jesus. The last nine years she battled with Parkinsonís and MDA. Even as her body began to deteriorate and die, her spirit remained bright, active and alive. She was always eager and delighted to see her family and attend their various activities, particularly those of her two great-granddaughters. Her life has been and will continue to be a witness for her Lord and His great love. She will be greatly missed, but we all know that one day we shall see her again.
Survivors include her husband Glenn Dorris of Odessa; daughter Darla K. Louvin and husband, Terry L., of Magnolia, Texas; sisters, Bobbie Pritchett Witten of Collinsville, Okla., and Debra Ann Pritchett Young of Broken Arrow, Okla.; grandchildren, Tisha Dana Crow, Christopher Curt Howell, Logan David Dorris and Kristin Ray Crow; and great-grandchildren, Jaden Kristine Crow and Julianna Kay Crow.
Services entrusted to Frank W. Wilson Funeral Directors.