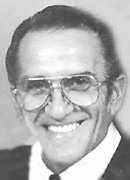 Willie Roger Daniels

ODESSA — Willie Roger Daniels, 67, passed away July 23, 2004, in Odessa.
Willie was born Nov. 9, 1936, in Goldsboro, N.C., to Willie Benjamin and Eva Daniels. He was a U.S. Air Force veteran and later worked as an industrial mechanic
Willie married Stormy Blankinship on April 28, 1998.
He was a member of Mission Dorado Baptist Church.
Willie was a kind, sincere and devoted man, whose smiling face brought joy to those he touched.
Willi''s parents and his first wife, Linda Daniels, precede him in death.
Willie is survived by his wife, Stormy Daniels; sons, Tony Daniels and fiancee Lisa Kidd and Dwayne Barnes, all of Odessa; daughters, Bridgett Tate and husband Tim of Myrtle, Miss., and Mary Milliken and husband Joe of Odessa; brothers, Earl Daniels of Rollie, N.C., Thurman Daniels of Goldsboro, N.C., Harvey Daniels of San Antonio and James Daniels of Goldsboro, N.C.; sisters, Ethel House of Smithville, N.C., Thelma Rhodes and Minnie Strickland, both of Villsboro, N.C., and Margaret Parton of Four Oaks, N.C.; his sister-at-heart, Bettye Blackwood of Odessa; 18 grandchildren; and eight great grandchildren.
Funeral services will be at 11 a.m. Tuesday, July 27 at Mission Dorado Baptist Church with the Rev Bob Bratcher officiating. Burial will follow at Sunset Memorial Gardens.
Services entrusted to Frank W. Wilson Funeral Directors.