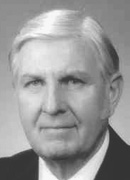 Clyde H. Chisum

ODESSA — Clyde H. Chisum, age 80, of Odessa, went home to be with the Lord on July 16, 2004.
Clyde was born on June 2, 1924, in Texas City, Texas, to Claude C. and Mavyce Belle Chisum, their firstborn son, or "Sonny" as his mother called him.
Prior to his first birthday, the Chisum family moved to Non, Okla., the place Clyde called home. After graduation from Gerty High School in Oklahoma, Clyde joined the U.S. Air Force and served his country from 1942-1945 during World War II. He was a glider mechanic stationed in England and France.
As a lover of learning, Clyde began his college education at the University of Oklahoma. He earned his B.A. Degree in Geology from Oklahoma City University. He returned to OU and obtained his Master's Degree in Education. He was a lifelong Sooner. He did further graduate work in education through the University of Texas and Northern Illinois University.
An avid and competent educator, Clyde's professional career began as a high school science teacher in Oklahoma City. He moved to Odessa in 1953 as a geology instructor at Odessa College. He was active in bringing the science of geology to elementary school students in Odessa and took semester filed trips with his college students to Big Bend National Park. During his 18-year stay at OC, Clyde served as Evening College Dean and as College Dean. He was named as the third President of Odessa College in February of 1970. Many knew him as Dean Chisum, or simply "Dean."
After his tenure at Odessa College, Clyde married his wife Reba and her two children on Oct. 8, 1971, and moved to Naperville, Ill., to assume an Assistant Dean position at Triton College in River Grove, Ill. He retired as Dean of University Transfer Studies at Triton on Feb. 1, 1981.
As a large man and a transplanted Texan in Illinois, Clyde relished the role as "the Big Texan" or "the John Wayne of Triton." He often gave presentations to local civic and educational groups about the history of the Chisholm Trail, and the cattle legacy of John Chisum in New Mexico. Clyde loved to tell stories.
The Chisums returned to Odessa in 1982 and spent their "retirement" years buying, remodeling and renting small houses on the West Side of Odessa. Clyde's second passion after education was construction and working with his hands. His hobbies included golf, traveling, flying, John Wayne movies and Sooner football. He held a private pilot's license and flew throughout North America. His motorhome travels took him and Reba through all of the lower 48 states, Canada, and Alaska — his favorite being Alaska. Later in Clyde's life, they regularly met up with friends for short stays in the motorhome at Fort Davis State Park.
Clyde was a member of the First Christian Church in Odessa. In years past, he served in the Civitan Club, Lions Club and was on the Presidential Museum Board.
Clyde is survived by his wife of 32 years, Reba, and her two children Stephen Jumper and his wife, Kristi, of Midland, Texas; Stephanie Olssen and her husband, Eric, of Gainesville, Texas; along with six grandchildren, Christopher, Kevin, Jessica, Brian, Kaitlin and Austin; two brothers, Milford "Bud" Chisum of Yukon, Okla., and Milton "Bud" Chisum and wife June of House Springs, Mo.; and many nieces and nephews, who all knew him as "Uncle Sonny."
He was preceded in death by his parents and a sister, Cladie Johnson.
Arrangements are under the direction of Sunset Funeral Home.
Funeral Services will be held at 10 a.m. Monday, July 19, 2004, at the First Christian Church with the Rev. Diana Garrett officiating. Interment will follow at Sunset Memorial Gardens.
Pallbearers are Christopher Brennan, Kevin Jumper, Brian Jumper, Austin Jumper, Eric Olssen and Bobby Bowen.
The family suggests that any memorials be sent to First Christian Church, Odessa College Foundation Memorial Fund or Hospice House Foundation.
After a 10-year battle with cancer, a battle he fought with courage, strength, and dignity, Clyde leaves us with, "I have fought the good fight; I have finished the race; I have kept the faith. Finally there is laid up for me the crown of righteousness, which the Lord, the righteous Judge, will give to me on that Day, and not to me only but also to all who have loved his appearing." 2 Timothy 4:7-8.
A visitation will be held from 6 p.m. to 8 p.m. today at Sunset Memorial Funeral Home.