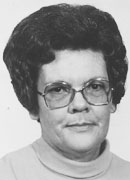 Patsy Ruth Lovvorn Campbell

ODESSA — Patsy Ruth Lovvorn Campbell, 66, a longtime resident of Odessa, passed away Thursday, April 29, 2004, at her residence. She was born December 6, 1937, in Wills Point, Texas. She married Donald Campbell Feb. 3, 1956, in Lovington, N.M. She worked for the Ector County Independent School District for 17 years as a cafeteria employee. She was a member of the V.F.W. Ladies Auxiliary and Second Baptist Church.
She was preceded in death by her husband, Donald Campbell January 22, 2000; and son, James D. Campbell May, 1989.
She is survived by her sons, Jerry Lee Campbell of Odessa, Ronald David Campbell of Knoxville, Tenn., and Bradley Scott Campbell of Minot, N.D.; sister, Doris Young of Fort Stockton; and three grandchildren, Travis Campbell, Cody Campbell and Jenifer Baker; two great-grandchildren, Ryland and Ashley Campbell.
There will be a visitation from 3 to 5 p.m. Sunday, May 2, 2004, at Hubbard-Kelly Funeral Home. Graveside services will be held at 10 a.m. Monday, May 3, 2004, at Sunset Memorial Gardens with the Rev. Randy S. Duckett officiating.
Services entrusted to Hubbard-Kelly Funeral Home.