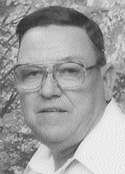 Travis Luther Bell

ODESSA — Travis Luther Bell, 75, passed away July 19, 2004, at Avalon Nursing Home. Mr. Bell was born August 12, 1928, in Doole, Texas, to S.C. Bell and L.E. McMutter.
Mr. Bell was a retired City of Odessa employee. He served as a Police Officer, Jailer, Animal Control Officer and as a driver for the Sanitation Department; he worked for the City of Odessa for 28 years. Mr. Bell also served Ector County as a Reserve Deputy Sheriff Officer. He was past president of the Eagles Lodge. Mr. Bell loved to travel, play guitar and fiddle; he also loved to share stories and loved to meet people. Mr. Bell was a veteran of the Korean Conflict, he was awarded the Occupation Medal, Combat Infantry Badge, Korean Service Medal with 1 Bronze Service Star and the United Nation Service Medal.
Mr. Bell was preceded in death by five brothers and two sisters.
Military graveside services with the VFW will be held at 10 a.m. Saturday, July 24, 2004, at Sunset Memorial Gardens with Burt Groves Officiating. Family will receive friends from 6 p.m. to 8 p.m. Friday, July 23, 2004, at Sunset Memorial Funeral Home.
Mr. Bell is survived by his wife of 51 years, Lillian M. Bell of Odessa; a daughter, Rose Tune of Odessa; granddaughters, Brandy Tune and Denise Jackson and husband, Danny; great-grandchildren, Tyler and Taran Jackson; and two brothers, Eugene Bell of Bangs and James Bell of Mineola.
Services are entrusted to Sunset Memorial Funeral Home.