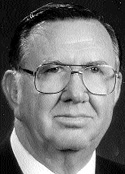 Stanley Ball

ODESSA ó Stanley Ball, 74, of Odessa, died Tuesday, June 1, 2004, at Medical Center Hospital. He was born June 27, 1929, in Lorenzo to Murray and Ethel Ball.
Mr. Ball graduated from high school in Hobbs, N.M. He joined the U.S. Army during the Korean War and was stationed in Europe. Mr. Ball studied economics at the University of Texas at Austin. He married Joyce Sides in 1954 in Odessa.
He was a Right of Way Agent for Texas Electric until 1977, when he became an independent landman in Longview. He was a member of First Baptist Church and taught a menís Sunday school class. He was a member of International Right of Way Association and Landmanís Association.
He is preceded in death by his parents and sisters, Earlene Kirksey and Wanda Merle Ball and brothers, Finis Ball and Glenn Ball.
He is survived by his wife, Joyce Ball of Odessa; son, Larry Ball and wife, Dora of Garland; daughter, LeAnn Ball Hadden of Midland; sisters, Fern Barnett and Robbye Walker of Odessa; grandchild, Brandon Ball of Garland; step-grandchildren, Tiffany Butts of Midland, and Ben Hadden of Galveston; and step-great-grandchildren, Dawson and Britton Butts of Midland.
Visitation will be held on Wednesday from 6 to 7 p.m. at Frank W. Wilson Funeral Directors. Funeral services will be held at 2 p.m., Thursday, June 3, 2004, at First Baptist Church with the Rev. Curtis Brewer officiating. Interment will follow at Sunset Memorial Gardens.
Services entrusted to Frank W. Wilson Funeral Directors.