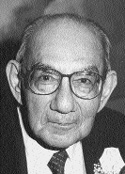 Pedro 'Pete' Almanza

ODESSA — Pedro "Pete" Almanza, 81, passed away, Sunday, July 18 at the Hospice House. He was born April 29, 1923, in Stockdale, TX. He graduated from Rotan High School and attended Barber College in San Antonio, TX., graduating from that college in 1945. He also received certificates in refrigeration, television repair and appliance repair. He married Hilaria Medrano on June 10, 1944, in Rotan, TX., at St. Joseph's Catholic Church. They had five children together. She preceded him in death on August 14, 2000, in Odessa. Mr. Almanza owned and operated Pete's Barber Shop on South Clements for 56 years. He was a United States Army veteran. He was a well-known musician. He played the saxophone, piano, trumpet, drums and the guitar and always encouraged others to learn to play music. He wrote music and made several recordings. He also was an artist who painted beautiful landscapes as well as portraits of his grandchildren. His paintings were exhibited for several weeks in an art exhibit at the old First American Bank. He was a charter member of the Basin Lions Club, the American Legion and the Altar Society. He was also a member of LULAC. He was very dedicated to family values and instilled those values in his children, grandchildren and great-grandchildren. He impressed the importance of education to both family and friends.
Survivors include sons, Pete Almanza and wife, Mary Ann, and Benny Almanza, all of Odessa; daughters, Linda Villagran and husband, Jaime, Geneva Holland and husband, Tom, Evelyn Garcia and husband, William and daughter-in-law, Magdalena Cox and husband, Cary, all of Odessa; grandchildren, Elia Goodman and husband, William of El Paso, Jo Ann Ybarra and Shelley Taylor, both of San Antonio and Yvonne Ybarra, Linda Eve Bernadette Garcia, Elizabeth Armendarez and husband, Raul, Marc Almanza, Nicole Almanza, Paul Almanza and wife, Shirley, Pete Almanza III and wife, Cindy, Sonia Almanza and Amy Matta and husband, Mark, all of Odessa and Angela Huertas and husband, David, of Dallas; great-grandchildren, Brandon Ybarra of El Paso and Gage Covernali-Ybarra, Carmen Almanza, Caleb Jordan Almanza, Anthony Almanza, Shane Patterson, Karina Almanza, Kamryn Almanza, Pete Almanza IV, Isaiah Armendarez and Kamilla Armendarez, all of Odessa.
Funeral arrangements are with Odessa Funeral Home. Rosary will be at 7 p.m. Tuesday at the Odessa Funeral Home Chapel. Mass will be celebrated at 10 a.m. Wednesday, July 21, 2004, at St. Joseph's Catholic Church with the Rev. Joseph Uecker officiating. Burial will follow at Sunset Memorial Gardens. Pallbearers will be: Brandon Ybarra, Paul Almanza, Pete Almanza III, Marc Almanza, Raul Armendarez and Jaime Villagran.
The family would like to thank Doctors Amaram, Surendra and Hendrickson, the Seabury Nursing Center staff and residents, the staff at Hospice House, Elaine Brashear, Father Joseph Uecker, Pastor Doug Herget and the many friends and relatives who offered prayers and were there for him.