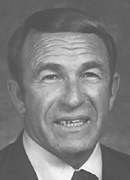 Harvey Adams

Harvey Adams, 78, of Odessa, passed away Thursday, May 27, 2004, at the Hospice House. He was born June 18, 1925, in Louann, Ark. He married Betty Jo Huestis on Dec. 27, 1974, in Odessa.
Mr. Adams was a 50-year member of the Masonic Lodge and a 32nd degree mason.
He was also a member of the Monahans Eastern Star and a member of Bethany Christian Church in Odessa. He worked for Gulf Oil Co. for 15 years and then went into business for himself. He owned Detecto Specialty from 1975 to 1991.
He served as the National Guard Commander in Monahans for many years.
He was preceded in death by his parents, Alice Beauregard and Archie Adams and sister, Polly Glidwell.
He is survived by his wife, Betty Adams of Odessa; daughters, Bonita Spivey of Parker, TX., Holly Johnson of Pueblo, Colo., Lynda Reed of Mesquite and Beckie Bailey of Houston; son, Jerry Adams of Midland; sisters, Myrtle Garner of Eunice, N.M., and Susie Blair of Odessa; 10 grandchildren; four great-grandchildren; and many nieces and nephews.
Funeral services will be held at 4:30 p.m. Sunday, May 30, 2004, at Bethany Christian Church with Dr. Max Browning from Plainview, assisted by the Rev. Gene Brown of Monahans officiating. Interment will follow at Sunset Memorial Gardens.
Services entrusted to Hubbard-Kelly Funeral Home.