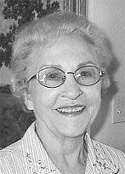 Nona Lee Laughlin

ODESSA — Nona Lee Laughlin, 84, of Odessa, passed away August 1, 2004, at Midland Memorial Hospital.
Nona was born June 7, 1920, the second of seven children, to Troy and Maude Marshall in Comanche, TX. After attending North Texas State University, she later married Charles E. Laughlin on December 14, 1940, in Comanche. He preceded her in death on January 6, 1993. After raising her children, Nona worked as an elementary school secretary in the Ector County School system for many years.
Following her retirement, she became a devoted student and leader in Bible Study Fellowship. She was active in her Sunday school class at First United Methodist Church, here in Odessa. Her love for music and the Lord kept her active and playing the piano with friends and family. A devoted grandmother of five, she took great pleasure in spending time playing and loving her grandchildren, especially during the summer months. Her adoring grandchildren referred to her affectionately as Nanny. Nona possessed an appreciation for literature and the arts and read regularly until the time of her death.
Nona is preceded in death by her daughter, Jo Evelyn Hanson on July 17, 2003. She leaves to cherish her memory a son, Gene Laughlin and wife, Charlene, of Midland; son-in-law, D. L. Hanson of Longview, TX.; sister, Eloise Parker of Comanche, TX; five grandchildren, Laura Rooker, Lisa-Marie Listenbee, Mary Lee Pyle, Julia Ogden and Eddie Hanson; and two great-grandchildren, Caleb and Emma Rooker.
A visitation will be held from 6 p.m. to 8 p.m. Tuesday, August 3, 2004, at Hubbard-Kelly Funeral Home.
Funeral services will be held at 10 a.m. Wednesday, August 4, 2004, at First United Methodist Church. Burial will follow at Sunset Memorial Gardens.
In lieu of flowers, memorials may be made to the First United Methodist Church, 415 N. Lee, Odessa, TX.
Services entrusted to Hubbard-Kelly Funeral Home.