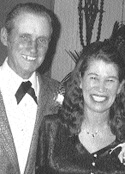 There is a reunion in Heaven.

Kenneth R. Lane

ODESSA — Kenneth Royce Lane, 67, of Odessa, passed away Tuesday, September 7, 2004, at Odessa Regional Hospital. He was born October 21, 1936, in Diboll, Texas.
He was a truck driver for Holloman Const. Co. for over 25 years.
He was preceded in death by his wife, Patricia Ann Lane on July 23, 2002; brother, Glen Lane; parents, George and Francis Lane; and grandson, Stephen Chesney.
He is survived by his sons, Jeff Lane and wife, Tonya, of Odessa; Kenny Lane and wife, Diane, of Midland; daughters, Rhonda Harris and husband, Jared, and Vickie Rose and husband, Billie, all of San Antonio; and Wendy Alexander and husband, Robert, of New Orleans, La.; brothers, Johnny Lane of Christoval and Sony Lane of Fort Worth; sisters, Mary Joyce Bryant of Conroe and Murry Landrum of Fort Worth; 16 grandchildren, Crystal Lane, Alyssa Billingsly, Tim Lane, Rachel Parham, Kenny P. Lane Jr. Zachery Tullous, Gage Harris, Kyra Harris, Jimmy Sorrells, Mykl Sorrells, Robert Chesney, Jr., Chaz Chesney, R. J. Morris, Justin Newcomb and Corey Salter; four great-grandchildren, Dylan Sorrells, Trevor Sorrells, Trinity Tullous and Bragen Billingsly.
There will be a visitation from 7 p.m. to 9 p.m. Friday, Sept. 10, 2004, at Hubbard-Kelly Funeral Home.
Funeral services will be held at 10 a.m. Saturday, September 11, 2004, at Hubbard-Kelly Funeral Home Chapel with the Rev. Don Caywood officiating. Interment will follow at Sunset Memorial Gardens.
Services entrusted to Hubbard-Kelly Funeral Home.