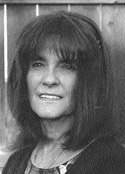 Christine Ellen Kinser

ODESSA — Christine Ellen Kinser, of Odessa, passed away Tuesday, Feb. 10, 2004, at the age of 52.
Christine was born on Sept. 17, 1951, in Fort Branch, Ind., to Burton and Rosemary Wilhite. She married Dan C. Kinser on March 20, 1981 in Bryan, Texas, later moving to Odessa. She was a member of St. Elizabeth Catholic Church in Odessa.
Chris, a loving mother and wife, was a wonderful foster parent to numerous foster kids. She showed and shared enough love for every child on this earth.
She is preceded in death by her parents, Burton and Rosemary Wilhite; and a brother, Jeff Wilhite.
She is survived by her husband, Dan C. Kinser of Odessa; daughter, Geri E. Kinser of Odessa; brother, Greg Wilhite of Offerman, Ga.; brother, Ted Wilhite of Brandon, Miss.; sister, Charlotte Hulfachor of Oakland City, Ind.; and numerous nieces and nephews.
A family visitation will be held from 7 to 9 p.m. Friday at the Sunset Memorial Funeral Home.
Graveside services will be held at 1 p.m. Saturday, Feb. 14, 2004, at Sunset Memorial Gardens with Father Mark Woodruff officiating.
The family requests memorials be made to the Susan G. Komen Breast Cancer Foundation.
Services are entrusted to Sunset Memorial Funeral Home.