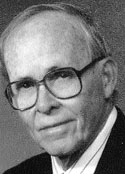 Cecil Leon Holley

ODESSA — Cecil Leon Holley of Odessa passed away Saturday, Feb. 14, 2004, at the Clifton Care Center in Clifton, Texas, after a lengthy illness. He was 85.
Mr. Holley was born Dec. 31, 1918, in Italy, Texas, to William and Ruth Holley. He had two older brothers who preceded him in death: J.D. Holley of Longview and Joe W. Holley of Enterprise, Ala.
Cecil played high school football for the Italy Gladiators and was so proud when his old Alma Mater won the state 1A football championship in the late 1980s. He was especially proud that the quarterback's name was also "Holley," although there was no relation.
Cecil married Margaret E. Rumbaugh on July 28, 1940, in Longview, Texas. They shared 63 years together.
Cecil was a WWII veteran and served as a platoon sergeant over 35 guards. He was a member of the 376th harbor craft company serving in the Japan occupation. He was awarded the Asiatic-Pacific Campaign Ribbon with one Bronze Star, the Philippines Liberation Ribbon with one Bronze Star, the Army of Occupation Medal Japan, the Victory Ribbon and three Overseas Service Bars.
He moved to Odessa in 1947 and was employed by R.C. Rumbaugh and Sons Trucking Co., as a trucking supervisor. In 1958, he owned and operated H&W Construction, which was a road construction company. He later worked as a truck dispatcher for various companies in Odessa. He retired in 1983. His pride in retirement was his beautiful yard.
Cecil is survived by his wife, Margaret Holley; sons, Cecil Leon Holley Jr. and wife, Bette, of Houston and William Craig Holley and wife, Jackie, of Missouri City, Texas; daughter, Mary Kathryn Thorpe and husband, Bill, of Odessa; seven grandchildren and one great-grandchild.
The family will receive visitors from 5 to 7 p.m. Tuesday, Feb. 17, 2004. Services are scheduled for 1 p.m. Wednesday at the Frank W. Wilson Funeral Directors Chapel with Lynn Money officiating. Interment will follow at Sunset Memorial Gardens.
Cecil loved his family and each member of his family was important to him. His health may not have always allowed him to express his tenderness of heart, but it was always there. His sense of humor, even while he was ill, kept everyone laughing and smiling. We will miss him and keep him ever in our hearts. We our proud to have called you our father and pappa.
Our gratitude is expressed to the Clifton staff for becoming his second family and loving him in a very special way.
Memorials or donations may be made to American Hospice, 3124 SE Loop 820, Fort Worth, TX 76140 or Clifton Nursing and Rehab, Rt 2, Box 150A, Clifton, TX 76634.
Services entrusted to Frank W. Wilson Funeral Directors.