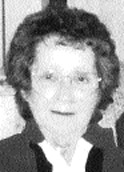 Dollie Mae Hogue

ODESSA — Dollie Mae Hogue was born in Kenton, Tenn., on Feb. 9, 1935. She went to meet her Lord on Monday, Feb. 9, 2004, after a long hard battle with cancer.
Dollie was a member of the Church of Christ. She came to Odessa in 1965 with her husband, Glen Hogue. Dollie worked her latter years as a sitter for the elderly. Her most successful role was being a good mother to her children. She never met a stranger. All her friends and family would describe her as a "good person." She was always willing to offer a friendly word or helpful advice to anyone she met.
Dollie has one daughter, Glenda Brown of Odessa. Glenda is happily married to Mike Brown. They have two wonderful children, Joshua Brown and Jessica Brown. Dollie also has one son, Glen Hogue Jr. of Odessa. Glen is happily married to Annette Firestone Hogue. They have three wonderful daughters, Samantha, Christy and Michelle Hogue.
Dollie is survived by seven sisters and one brother, Sue Wilson of Martin, Tenn., Gerald Wiley of Sharon, Tenn., Grace McKay of Martin, Tenn., Kay Orr of Sharon, Tenn., Louise Loveland of Dresden, Tenn., Carol Garrett of Martin, Tenn., Linda Muzzall of Clarksville, Tenn., and Ann Gardner of Martin, Tenn.
Dollie was preceded in death by her father, Thomas K. Wiley; her mother, Vergie Wiley; and her sisters, Geneva Wiley, Eva Smith and Dessie McDonald.
Services will be held at 2 p.m. Thursday, Feb. 12, 2004, at Sunset Memorial Chapel with Lynn Money officiating. Interment will follow at Sunset Memorial Gardens.
The family would like to thank Home Hospice for helping take care of Dollie. Memorials can be made to Odessa Christian School.
Mom, Ninnie, Dollie, we love you and you will be missed.
Services are entrusted to Sunset Memorial Funeral Home.