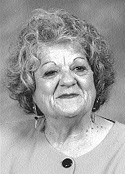 Wanell Gore

ODESSA — Ruth Wanell Miller Gore passed into life eternal on September 11, 2004. She was born October 19, 1929, in O'Dell, Texas, to Joe Edmund and Sally Miller. She attended Chillicothe High School and returned numerous times for reunions with her many high school friends. She attended Hardin-Simmons University, as well as Odessa College, where she earned her teaching certificate.
Because of her father's illness, her family moved from Abilene to Odessa in response to her brother Paul Miller's call to the ministry at Trinity Baptist Church. Upon her evening arrival in Odessa, she exclaimed to her brother, "Where have you brought us!" It was her first real look at Odessa, and she could not have foreseen that this would be the place where she would meet her future husband, Gerald Eugene Gore. Visiting church one Sunday morning, Gene Gore said to his mother, "I could sure go for that dark-eyed darling in the choir!" The rest was history; they were married, raised five children and enjoyed many wonderful years together.
"Momma Gore," as she was affectionately known by many, served her Lord in many ways. Brother Paul and Trinity Baptist Church were asked to house the first Head Start program in Odessa. In full support, she signed up to be one of the first instructors for that program. Many people were blessed to see her surrogate concern for the many abused, neglected and unloved children who were touched by the program. Her life demonstrated how Christ's love is defined, and she continued showing that same love to countless others throughout her life. She was also quick to remind her family, "If it were not for God's grace, you would be in that same position," thereby keeping life in proper perspective for her children.
She was a member of the Ladies' Hospital Auxiliary, where she faithfully served for many years. "Momma Gore" also worked in Mission Odessa, where she once again exhibited God's love and care for the children that were less fortunate than most.
Her life personified the phrase, "a godly mother." Only God knows the prayers she lifted for her children over a lifetime. Church was never an option; she was always faithful to her God. She had a beautiful soprano voice, and while growing up, her children never failed to see her sitting in the first row of the choir, using her God-given talent.
She loved to cook for others, and is widely known for her chicken and dumplings. In fact, her famous dish will live on because upon request from the owner of Walter's Restaurant, she went into the kitchen and showed them how to make her specialty.
After moving her letter to First Baptist Church, Odessa, she enjoyed years of love from her Sunday School class and church. Words cannot express the love and gratitude she felt from her church family, especially since being diagnosed with cancer in the fall of 2000.
There were many battles fought and won with this plague called "cancer." Even though it was cancer that took her life, the victory belongs to her Lord and Savior Jesus Christ whom she served faithfully. For it is written in Isaiah 25:8a, "He will swallow up death forever, and the Lord God will wipe away tears from all faces."
She was preceded in death by her parents; husband; and her brothers, Joe Miller, Pete Miller and Paul Miller.
She is survived by her children, Larry and Pam Gore of Buhl, Idaho, Eddie and Patty Gore of Henderson, Nev., Sally Remore of Odessa, Jesse and Penny Gore of Odessa and Timothy and Devra Gore of San Antonio, Texas; brother, Don and de'Anne Miller of Odessa; sisters, Dorothy Beam and Doris Rice, both of Odessa and Sue and Bill Forest and Lometa Doss, all of Kerrville, Texas; nine grandchildren; four great-grandchildren; and numerous friends.
A celebration of her life is scheduled for 11 a.m. Tuesday, September 14, 2004, at First Baptist Church of Odessa with Rev. Byron McWilliams officiating and Rev. Curtis Brewer assisting. A private interment will be held at Sunset Memorial Gardens.
In lieu of flowers, memorials may be made in Wanell's memory to the Gideons or to Hospice House.
It is impossible to express the gratitude for the countless prayers, visits, cards and generosity that Wanell Gore received during these last four years. Her family will be forever grateful for the love that has been expressed. The family also gives thanks to Dr. Amato and his loving staff in Houston.
Wanell Gore left a legacy. . . a legacy of love.
Services entrusted to Hubbard-Kelly Funeral Home.