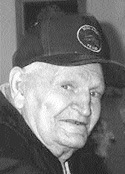 John Fiedler

ODESSA — John Fiedler, 84, a longtime resident of Odessa passed away Tuesday, Sept. 7, 2004, at Medical Center Hospital.
He was born March 10, 1920, to Charles and Edna Boland Fiedler of Baird, Texas. He was a WWII veteran, a member of the V.F.W. and the First Baptist Church. For the past two years he had made his home at Avalon Nursing Center.
Graveside services will be 11 a.m., Friday, Sept. 10, 2004. at Sunset Memorial Gardens, officiated by Byron McWilliams, Pastor of First Baptist Church.
Pepaw, as he was affectionately known to his family, is survived by his stepdaughter, Irene Carson Paulette and husband R.C. of Odessa, stepson, Bill Carson and his wife Yolanda of Goldsmith. He leaves behind six grandchildren, Gary Paulette and wife Janiece Anders Paulette of Lubbock, Kelly Paulette Nettleton and husband David of San Antonio, Billy M. Carson of Fort Stockton, Teena Carson Holbrook of Temple, Stephen Carson and wife Shanna Carson of Kyle, Brandi Carson Luttrell and husband Dan Luttrell of San Antonio. Great-grandchildren are Chris and Nicole Paulette, Casey, Sean and Tyler Stapleton, Alex and Kelby Nettleton, Nathaniel Holbrook and Alexis Lene Carson.
He was preceded in death by his beloved wife and fishing partner, Mildred Cutbirth Fiedler in 1997, his parents, five brothers and one sister.
John grew up in Baird, Texas. When the war began, he enlisted and served in Battery A of the 869th Antiaircraft Artillery of the Army from February 10, 1942, to September 26, 1945. He received the Asiatic-Pacific Medal and Good Conduct Medal. He qualified as a rifle marksman in May of 1942. He served his country with great pride. After serving in the military, he returned home and on to West Texas where he met and married Mildred Irene Cutbirth in 1949. They made their home in Odessa. He loved her and her children, Irene and Billy unconditionally. He retired from Brown Well Service after 35 years. He was a drill collar specialist.
The family has many fond memories of Pepaw. Through the years they enjoyed family barbecues and fresh vegetables from the garden in his beautiful backyard. There was dominoes, games and good times shared by all. The grandkids were always in awe of the tin can lid arrangements he made to keep the birds away from his garden. He was a big tease, had a playful and happy heart. At mealtime the family remembers that after the last "amen" was said he would always say "Now back your ears and all dive in." This phrase is still repeated today in the homes of his family prefaced by "And Pepaw would say, Back your ears and all dive in." After he could no longer garden, he made it up to the birds he had not allowed in his garden by loading up the back of his pickup with day old bread and feeding them, day after day. He had a passion for helping God's creatures. He also took care of stray cats ... everyone felt welcome at Pepaw's. His beautiful blue eyes would sparkle when he told of feeding his flock of birds and tending to his stray cats ... and their kittens.
John loved Avalon Center. He thought the food was good, and he appreciated the staff and the residents. He was known as the "Floor Monitor" because he enjoyed sitting in the hall in his wheelchair watching all the activities of the day and speaking to folks as they passed his way. The family would like to express their appreciation to all the caring staff, especially Kay, Cheryl, Marilyn, Jerrilynn, Arline, Mike and of course, Joey.
We also thank the professionals at Medical Center Hospital. We will always remember the kindness and love you showed to John and our family during these past days. Special thanks to the ICU staff, Nurse Ghenima and Nurse Nicole in particular for being patient, caring and loving to all of us. We also owe thanks to Dr. Kendall Wong and Dr. R.J. Patel for their support and understanding and doing all they could for our loved one.
For those desiring, memorial contributions may be made to John's memory to Door of Hope Mission, Box 1789, Odessa, TX 79760.
Services entrusted to Hubbard-Kelly Funeral Home.