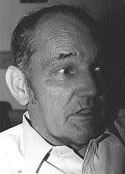 ODESSA — Larry "Buckshot" Burns, 64, of Odessa passed away Monday, April 19, 2004, at Medical Center Hospital. He was born November 12, 1939, in Ackerly, Texas. to Buck and Ima Burns. He moved to Odessa in 1984 from Snyder. He worked in the oilfield as a toolpusher and retired in 1998. He married Linda Perdue October 17, 1958 in Cortez, Colo.
He is preceded in death by his parents, Buck and Ima Burns; grandson, Robert Burns; and sister, Linda Montgomery.
He is survived by his wife, Linda Burns of Odessa; sons, Buck and Kevin Burns of Odessa; daughters, Lyn Chaney and Teresa McDuffee, both of Snyder, and Jay Hobbs of Rockmart, Ga.; stepmother, Glenna Burns of Lubbock; sisters, Peggy Morris of Lubbock and Elizabeth Higginbotham of Victoria, Texas; stepbrothers, Ted and James Johnston, both of Lubbock; 11 grandchildren and 13 great-grandchildren; numerous aunts, uncles, nieces, nephews and cousins and a host of friends.
Funeral services are scheduled for 1 p.m. Wednesday, April 21, 2004, at the Hubbard-Kelly Funeral Home Chapel with the Rev. John Lyons officiating. Interment will be at 5 p.m. Wednesday at the Hillside Cemetery in Snyder.
Services entrusted to Hubbard-Kelly Funeral Home.