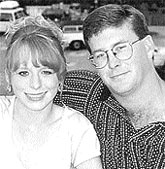 ODESSA — Kerry Wayne Fletcher, 34, formerly of Odessa, Texas, and his wife of five years, Stephanie Johnson Fletcher, 29, were fatally injured in a highway accident Saturday, April 10, 2004.
Kerry's family was his life and his son, Dalton Wayne, 10, and daughter, Hailey Madison, 4, were the source of his pride and drive to be a good father and husband and to provide for them his company Dirtworks, a grading and construction operation. He was the son of Merle Wayne and Linda Fletcher of Odessa. Wayne Fletcher preceded his son in death April 5, 1982.
Kerry attended Odessa schools and was active in sports. He attended Permian High School until he moved to North Carolina in 1988, where he graduated from Central Wake in Raleigh, N.C. Kerry was a U.S. Army Ranger with the 82nd Airborne and was a veteran of Desert Storm.
Funeral services will be held at 2 p.m. Friday, April 16, 2004, at Sunset Memorial Funeral Home Chapel with Dr. Johnny Dickerson officiating. Burial with Military Honors by the VFW will be at Sunset Memorial Gardens.
He is survived by his son, Dalton Wayne Fletcher of the home; his daughter, Hailey Madison Fletcher of the home; his mother and stepfather, Linda and Dwight Adams of Raleigh; brothers, Keven Che Adams of Charlotte and Justin Ian Adams of Orlando, Fla.; grandparents, Sue and DeWitt Bobbitt of Odessa, Texas; aunts and uncles, Sammie and Lee Hamilton and Judy and Rick Ellison of Odessa, Texas, Roy and Kathy Bobbitt of Odessa, Texas, Marvin Wade of Oklahoma and Doyle Wade of California; cousins, Pat and Rex Massey, Rexanne Wier, Doug Massey, Gail Pool, all of Odessa, Jan and Vernon Camp, Deana Glaze, Keith Camp, Rikka Ellison Will Hodges and Jordana Hodges.
Pallbearers will be Kerry's cousins: Brian Hamilton, Joe Hamilton, Jeff Hamilton, Brice Ellison, Blacke Ellison and Nathan Bobbitt.
In lieu of flowers, memorial contributions may be made to the Dalton and Hailey Fletcher College Fund, c/o Central Carolina Bank, P.O. Box 68, Rolesville, NC 27571.
Family will receive friends from 6:30 to 8:30 p.m. Thursday, April 18, 2004, at Sunset Memorial Funeral Home.
Services are entrusted to Sunset Memorial Funeral Home.