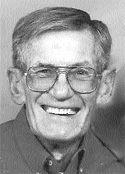 Jesse Bryan Farris Sr.

ODESSA — Jesse Bryan Farris Sr., 74, of Odessa went to join his Lord on Friday, March 26, 2004. Jesse passed away in Val Verde County, Texas. He was born on March 3, 1930, in Kenmundy, Ill., to Jesse and Florence Farris.
After the death of his father, he moved from Illinois to San Angelo as a child. He later moved to Rankin and graduated from Rankin High School in 1947. He graduated from Sul Ross University in 1952. He went directly from college into the Army and was stationed on Okinawa during the Korean War. On April 24, 1961, he was united in marriage to Martha Murphy in Rankin. They moved to Odessa in October, 1962, where he was employed by Dresser Security for 24 years until his retirement in 1986. After retiring, he managed the family ranching and oil business in Upton, Sterling and Irion counties.
Jesse was a man of strong Christian faith and a member of Sixth and Jackson Church of Christ. He was a devoted husband, father and grandfather and known lovingly by his grandchildren as "Poppy." He was an avid sportsman and enjoyed hunting and fishing.
He was preceded in death by his first wife, Lois; and son, Kevin; father, Jesse Farris; mother, Florence McGill; stepfather, A.B. McGill; and sister, Nancy McGill.
He is survived by Martha Farris, his wife of 43 years; sons, J.B. Farris Jr. and wife, Mary, of Carrollton, Clay Farris and wife, Roni, of Midland, Darrel Farris and wife, Brenda, of Odessa; daughter, Donna Jones and husband, Steve, of Odessa; brother, Emmett McGill, and sister, Ruth Kaufman, both of Satellite Beach, Fla.; grandchildren, Amy Jones, Jill Stephen and husband, Alan, Wesley Farris, Melissa Farris and Mikelle Farris, all of Odessa, Christy and Emily Farris of Carrollton; great-grandson, Jake Stephen; and numerous nieces and nephews.
Funeral services are scheduled for 2 p.m. Wednesday, March 31, at Sixth and Jackson Church of Christ in Odessa with Roy Smalling officiating. Burial will follow at Sunset Memorial Gardens.
Pallbearers will be J.B. Farris Jr., Clay Farris, Darrel Farris, Steve Jones, Wesley Farris and Alan Stephen. Honorary pallbearer will be great-grandson, Jake Stephen.
In lieu of flowers, memorials may be made to West Texas Boys Ranch in San Angelo.
Services are entrusted to Sunset Memorial Funeral Home.