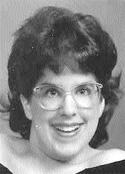 ODESSA — Elicia Jenice "Jeni" Ayers, 29, of Odessa, went to be with our Lord on Sunday, March 28, 2004, in Odessa. She was born in Odessa, Texas, on June 27, 1974, to Beverly Ayers Hutton.
Jeni was the Local Easter Seal Poster Child in 1977 and the State Easter Seal Poster Child in 1980. She attended the Lions Camp for Crippled Children in Kerrville and was a patient at the Scottish Rite Hospital in Dallas. Jeni graduated from Permian High School in 1994.
Jeni was a member of the Order of the Eastern Star # 447. She was also a member of First Baptist Church in Odessa.
Jeni has joined her grandmother, Betty Berkley; and two aunts, Pamela Beam and Kaywin Berkley; and one uncle, Frank Berkley Jr. in Heaven.
Jeni is survived by her mother, Beverly Hutton and husband, Glynn, of Odessa; grandparents, Frank Berkley of Odessa, Frankie and Billy Ayers of Albany, Texas; stepgrandmother, Ida Hutton of Odessa; cousin, Richard Beam of Weatherford; stepsister, Aaron Morrow and husband, Dax, and daughter, Alexis, of Sierra Vista, Ariz.; and a host of aunts and uncles.
Services will be held at 10 a.m. Tuesday, March 30, 2004, at the First Baptist Church with Dr. H. Bailey Stone and Revs. Johnny Young and Buck Wheat officiating. Eastern Star Graveside Rites will follow at Sunset Memorial Gardens.
The family requests that memorials be directed to the Scottish Rite Hospital, Permian Basin Rehab, Easter Seals, Lions Camp, Order of the Eastern Star Estarl or a charity of choice.
Services entrusted to Frank W. Wilson Funeral Directors.