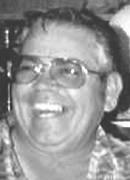 ODESSA — James "Jim" C. Lewis passed away at home after a short battle with cancer on April 1, 2004. He was born in Hobbs, N.M., on April 23, 1940, to Weldon and Elizabeth Lewis. He lived in Odessa since 1964 and married LaVera Motley in Odessa on July 3, 1964.
Jim was a truck driver for 38 years. He drove for G & RG Trucking Inc. for approximately 15 years. His trucking family and friends will remember him as Horse Feathers.
He was a very loving husband, father, grandfather, and son. He loved playing music. He played the coronet in high school and also played guitar, bass and harmonica. He was a very simple man who loved his family.
He is preceded in death by his mother Elizabeth Lewis. He is survived by his parents, Weldon and Cathie Lewis of Bradenton, Fla.; wife, LaVera of Odessa; his sons, Bucky and wife, Kellye Lewis, of Odessa, Rodney and wife, Shelagh Phillips, of Austin; his brother Randy Lewis of Odessa; and four grandchildren, Ryanne Newman Lewis, Casey Lane Lewis, Amber Dawn Phillips and Jordan Estwell Phillips.
Funeral service will be at 2 p.m. Saturday, April 3rd, at University Park Baptist Church, 87th and North Golder, where he was a member, with Brother Jimmy Hull officiating. Interment will follow at Sunset Memorial Gardens.
Please send memorials to American Cancer Society.
Services are entrusted to Sunset Memorial Funeral Home.